INTERNATIONAL DAYS 2018 IS COMING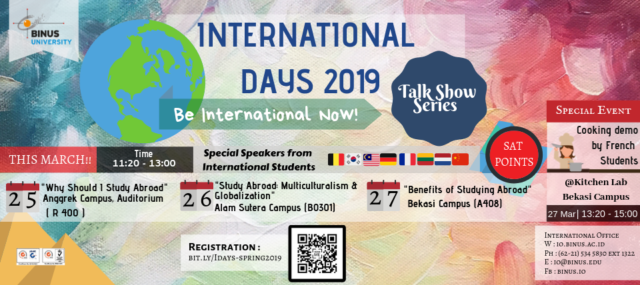 Greetings from International Office!
We proudly presents "International Days – Spring 2019"
Join this event to meet and interact with our international exchange students from French, The Netherlands, Germany, Belgium, Lithuania, Korea, China and Malaysia through Talk Show Series and Special Cooking Demo.
This event will be held for three days in different campuses. Please see details below.
MONDAY, 25 MARCH 2019 – ANGGREK CAMPUS
Event: Talk Show "Why Should I Study Abroad?"
Time: 11:20 – 13:00
Venue: Auditorium 4th floor
TUESDAY, 26 MARCH 2019 – ALAM SUTERA CAMPUS
Event: Talk Show "Study Abroad : Multiculturalism & Globalization"
Time: 11:20 – 13:00
Venue: Room B0301
WEDNESDAY, 27 MARCH 2019 – BEKASI CAMPUS
Event: Talk Show "Benefits of Studying Abroad"
Time: 11:20 – 13:00
Venue: Room A408
Event: Cooking Demo by French Students
Time: 13:20 – 15:00
Venue: Kitchen Laboratory
RSVP Link : bit.ly/Idays-spring2019
Thank you! 😊
Further Information
INTERNATIONAL OFFICE
W: io.binus.ac.id
E: io@binus.edu
FB: binus.io
Ph: (021) 5345830 ext 1322