Intercultural Thinking for Innovative Products-Building International Exposure at Home
One aspect of BINUS internationalization strategy is to have all its students get international exposure, when not abroad, then at home. For this reason the university regularly organizes on-campus events for its local students aimed to build a global mindset. Over the last few months we had several engaging events – Game Jam!, a lecture by the Chief Medal Designer of Beijing Olympics 2008, and our regular BINUS Festival.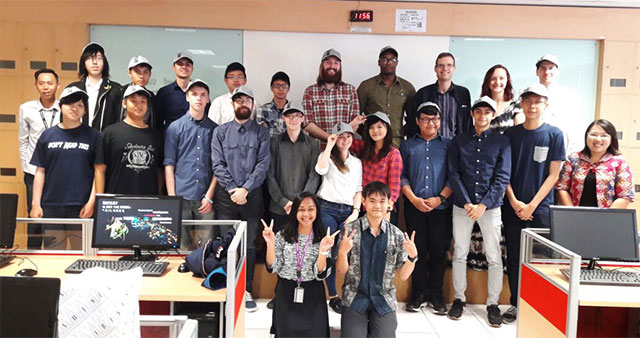 Game Jam! was organized in May together with Coventry University for a total of 18 students, half from BINUS and half from Coventry. The project inspires students to draw upon their different backgrounds to create popular games, while building teamwork skills and experiencing the game development process from A to Z. Individual students were asked to come up with ideas for games and then promote them on stage to recruit developers. Finally, 6 teams were formed mixing students from BINUS and Coventry and each having a game designer, an artist and a programmer. The whole process lasted three days until the games reached prototype stage. On the last day, students received feedback from the jury composed of 2 BINUS and 2 Coventry lecturers. Being especially engaging, the winners were Rock & Draw, Jumping Chicken, and Point Defense. For instance, Rock & Draw is a competition game between two players. The first player is a climber, for which the second player draws obstacles. Player one wins when he successfully avoidsthe obstacles and the player two wins when the obstacle holds the player one back. All games had different strengths – either in the artistic respect or programming quality, depending on the specific constellation of these intercultural teams.
Mid-May, BINUS students enjoyed an exclusive seminar and workshop by Professor Xiao Yong, the chief medal designer of Beijing Olympics 2008, who teaches at more than 350 universities in the world. He is also an Executive Board Member of CUMULUS Association (2016-2018), the only global organization serving art and design education and research. The seminar focused on educational and professional perspectives of design in China, while the workshop looked specifically at male/female differences through design and symbolization. Our design students were thus able to inspire their learning and future careers from this global art education leader while engaging in an intercultural dialogue. Please see video coverage by BINUS TV in Bahasa Indonesia here.
BINUS Festival is a campus wide event we organize every semester. This May's theme was socio-economic impact. For a few days, students substituted regular classes with visiting lectures addressing Sustainable Development Goals (SDG). Dr. Nadja Jacubowski as an international gender and mainstreaming advisor of the German Development Cooperation Agency (GIZ) shared her expertise on gender and human rights. GIZ develops demand driven services for sustainable development assisting the German Government with its international cooperation. Another example is the visit from Ita Mucharam handling partnership and program development of the Indonesian Global Compact Network. This UN policy initiative encourages businesses to adopt universally accepted practices in human rights, labor, environment and anti-corruption. James Kallman, Founder of the Foundation of the International Human Rights and Reporting Standards further used illustrative examples, including the ongoing fish slavery tragedy of the SE Asian waters and Foxconn employees hopeless with their working conditions, to demonstrate impact of questionable business practices on the lifetime of businesses. The students thus learned both about the impact of their actions on global socio-economic justice and internship and employment opportunities with participating organizations.
With its focus on innovation and enterprise, through such international exposure events, BINUS engages students in relational thinking across cultures and socio-economic issues encouraging them to employ such thinking in the innovation process of coming up with new marketable products and services. No wonder TaniHub – our graduate's e-commerce start-up bridging Indonesian farmers and consumers!
For the full list of our guest speakers at May 2016 BINUS Festival and their topics please see here.