UCAM Scholarship for Undergraduate Student
Updated June 1, 2022
CONGRATULATIONS to:
| | | | | | |
| --- | --- | --- | --- | --- | --- |
| No. | Name | Student ID | Major/Department at BINUS | Major/Department at UCAM | Status |
| 1 | Ruizhi Yufin Wijaya | 2501976794 | Business Creation | Business and Law | Selected |
| 2 | Stephanie Mirella | 2501985331 | Business Creation | Business Administration | Selected |
| 3 | Yasmin Anggraini Teguh | 2440019352 | English Literature | Modern Languages | Reserved 1 |
| 4 | Claudia Loreza | 2301926825 | International Marketing | Business Administration | Reserved 2 |
| 5 | Christina Anabel Lay | 2301866422 | International Relations | Psychology | Reserved 3 |
| 6 | Ricky Samuel Satria | 2440038566 | Information Systems | Business and Law | Reserved 4 |
for being selected as a grant recipient or reserved applicant of the Erasmus+ Mobility Grants with UCAM!
—-
Updated April 6, 2022
Please be informed that the assessment process is still in progress. Visit https://bit.ly/ucamcheckbinus on regular basis to check the status of your application.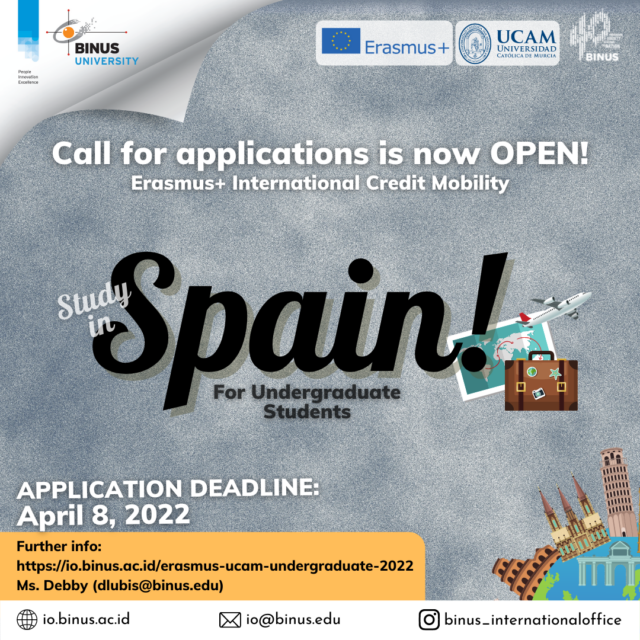 BINUS University proudly participates in the Erasmus+ International Credit Mobility program which offers a funded mobility for Undergraduate Students from Indonesia to Universidad Católica San Antonio de Murcia (UCAM) in Spain.
One of the objectives of the Erasmus+ International Credit Mobility Programme is to promote mobility with leading universities in countries with emerging economies like Indonesia. UCAM has been awarded funds under the Erasmus+ ICM Programme, which enables students and staff from UCAM and its partner universities to undertake mobility stay. The main purposes of this call are:
To offer training, research and study development opportunities to students at participating universities;
To support students achieve sustained improvements in knowledge, teaching and research skills;
To forge and deepen lasting links between UCAM and its partner universities thus enhancing transnational academic cooperation; and
To improve participants' language and cultural skills, promoting mutual enrichment and understanding.
DURATION
5 (five) months (valid until July 31, 2023)
AVAILABLE SEATS
2 (two)
STUDY AREAS
Business Administration, Translation/Modern Languages, Psychology, Primary Education
Notes:
– Bachelor's Degree in Business Administration: some courses may suitable for majors related to business, finance, and accounting
– Bachelor's Degree in Modern Languages: some courses may suitable for English Literature, Chinese Literature, and Japanese Literature program
– Bachelor's Degree in Primary Education: courses only taught in Spanish
SCHOLARSHIP COVERAGE
Subsistence EUR 850/month
Travel allowance EUR 1,500
Note: If you are selected, you still have to pay tuition at BINUS.
APPLICATION DEADLINE
April 8, 2022
MOBILITY PERIOD
Odd (Ganjil) Semester 2022/2023 or Even (Genap) Semester 2022/2023
HOW TO APPLY
Step 1: Read the call
Read the call carefully and ensure that:
You are highly motivated and assertive
You register as an active student at BINUS University/BINUS University International during the selection process until the completion of the mobility
You have a good command of English
You have a good personality and an open mind
You have a minimum of B2 level of English proficiency (B2 level is equivalent to score 72-94 in TOEFL iBT and score 5,5-6,5 in IELTS. BUEPT min. 550 is acceptable)
Step 2: Complete the Learning Agreement
Complete the Learning Agreement for Undergraduate Student UCAM 2022. Some parts of the Learning Agreement have been filled in for your convenience. Please make sure you complete all parts in yellow highlight. 

Please use this link

https://international.ucam.edu

to find the course code and course name. Click Studies, choose the degree, and go to the Curriculum.

The agreement can be filled in English or Spanish. The length of your answers to qualitative questions is not limited (just keep it within reasonable limits) and has to provide enough information for the evaluators to assess your application.
Step 3: Get your Learning Agreement signed
The credit transfer should be arranged before and after mobility. Please consult with your Head/Deputy Head of Program/Department and get the Learning Agreement reviewed, approved, and signed by him/her. Electronic signatures are acceptable.
Step 4: Submit your application for internal selection and nomination process
Please submit the following documents to Ms. Debby (dlubis@binus.edu) by April 8, 2022:
Copy of valid passport
Complete and signed mobility agreement
Copy of the latest academic transcript
Copy of English proficiency test result (screenshot of BUEPT is acceptable)
Step 5: UCAM Selection
If you pass the internal selection and are nominated by BINUS University, your application will be submitted to the UCAM Selection Committee along with the letter of recommendation issued by BINUS Global. If you are selected, you will be emailed by the UCAM team.
If you still have further questions, please contact Ms. Debby (dlubis@binus.edu).
Join the BINUS IO—Special Programs Channel on Telegram or follow our Instagram binus_internationaloffice to stay updated.
Good luck!
\dl