Yu Han Na: Exchange at Chung-Ang University, South Korea
There and Back Again
Yu Han Na, English Department
Exchange at Chung-Ang University, South Korea (Spring & Fall 2014)
Like Bilbo Baggins in the Hobbit movie, I wanted an adventure: to experience a new environment, places, and people out of my ordinary school life. Then I learned about the student exchange program offered by BINUS. I immediately applied for it for Spring and Fall 2014. However, I was afraid and kept thinking that I might not adapt well. Thankfully this exchange program changed many things about me for the better, as I got new experiences, friends and mindset.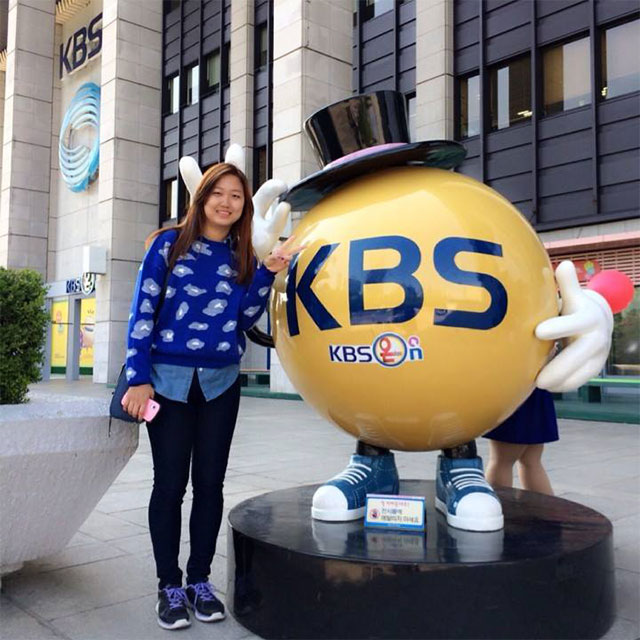 Visiting KBS TV Station in Yeouido with friends
Going to Chung-Ang University was a new and big challenge for me. I may be Korean but I actually never lived in Korea or attended a Korean school, so that was why I chose to do an exchange at Chung-Ang. Everything in Korea was almost new to me: the weather, school and atmosphere. Yet as time went by, I found myself adjusted to my life in Korea. All of my worries went away because I had so much fun and new experience I never had before. The lectures and learning style were different and they gave me a new way to learn. The school ran so many trips where we could visit exciting places like Gyeongbok-gung (a Korean palace), Everland, and picked strawberries or had Membership Training (MT).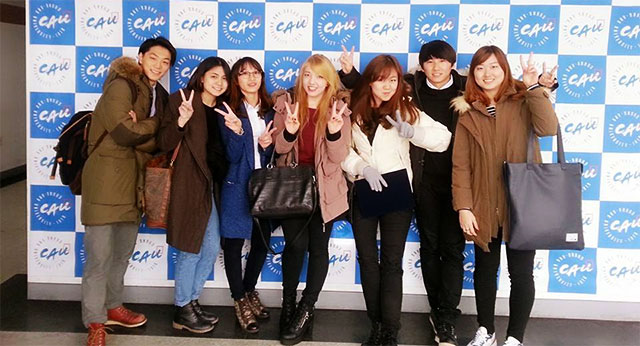 With my best friends after farewell ceremony for Chung-Ang University exchange students
Not only new experience, but I also got new friends from all around the world. They even became my new family. I was worried about my social life at first but unexpectedly, I made friends with many exchange students from the orientation day. Everyone was the same as me, all alone in a new place. Having friends from many countries is interesting because we can learn their languages, cultures and many other things. Being open and friendly is the easiest way to make friends and don't be afraid to speak English. Be confident.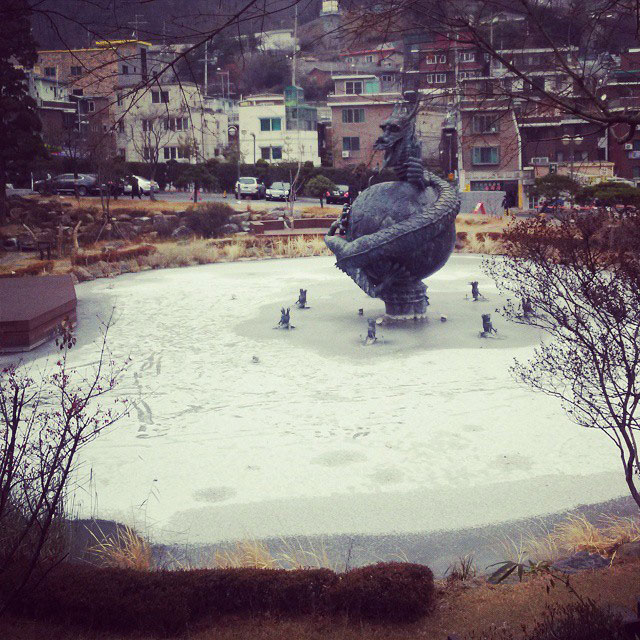 The beautiful frozen Blue Dragon Pond of Chung-Ang University
Having a new mindset was the greatest "gift" from my exchange program. I really learned that being open-minded is necessary all the time. If I didn't have the courage to join the student exchange program, then I would never have had all the fun and experience of studying abroad. If I didn't try to talk to others, then I wouldn't have made friends. If I didn't try to adjust to Korean style of learning, then I wouldn't have gotten good scores. I learned all these from my student exchange, which I wouldn't regret. It was my best adventure in my life. I hope you will follow my footsteps and have fun!