Metta Ratana: Summer Course at Duksung Women's University, South Korea
My Story in Seoul
Metta Ratana, Marketing Communication
"Discover Korea" Summer Course at Duksung Women's University, South Korea (Spring 2016)
안녕하세요! 저는매따예요(Good morning, I am Metta)
저는BINUS, 인도네시아에서왔어요(I'm from BINUS, Indonesia)
한국에있어서행복해요 (Happy in Korea)
"Discover Korea at Duksung Women's University" is an international summer course that provides a great opportunity for students to learn Korean language and culture. In this program, we had nine sessions of Korean Language Class, along with City Tour, Mountain Tracking, Korean Pop Culture class, Making Bibimpap (Korean Food), Korean Movie Night, Taekwondo class, and Boryeong Mud Festival. There were 22 participants in total, coming from Germany, China, Thailand, America, Japan, Malaysia, Spain, and Indonesia.
In the Korean Language Class, we learned Hangul (basic Korean alphabets) and how to introduce ourselves and others, order food, buy things, tell the time and date, and a variety of vocabularies. 머리아파요! 하하하(Moriapayo=Headache). Sometimes we didn't understand what the teachers were saying because they delivered it in full Korean, but it was always enjoyable because they combined the lesson with practice, games and handicraft activities. The activity that I liked the most was making Hanbok Handicraft!
Hanbok Handicraft (made by myself)

Duksung Campus
The cultural activity that impressed me the most was Taekwondo. Honestly I don't like exercising but I had to join the Taekwondo class because it was mandatory. It was my first time doing Taekwondo. I was a little bit afraid because I thought Taekwondo was hard and we should have a strong and big body to do that, while I'm very very very tiny! The sapomnim (taekwondo coach) asked me, "Can you break the board?" and I just said, "No, I don't know." He said that we couldn't do it without confidence. I had to change my mind, be brave and believe in myself that I could do it! Then he asked me to break the board. Haaaaaa!! (shouting in Taekwondo) (Crush) The board broke!! I did it! It made me realize that no one can believe in you, unless you believe in yourself first. It was such a nice experience.
I broke the board

Our Taekwondo Experience
Aside from many cultural activities arranged by the university, we also had a lot of free time! We could go everywhere we wanted with our international friends and buddies. We visited so many places, such as Myeongdong, Gyeongbokgung Palace, Insadong, Bongeunsa, Hangang Lotteworld, Jjimjilbang Place, Norebang, Itaewon, Hongdae, and Namsan Tower. The best experience for me was renting the Hanbok in Insadong. It took 30 minutes of walk to get to Gyeongbokgoung Palace from Insadong, so we wore our Hanbook all the way there and back! So funny! We took a lot of photos under the hot summer sunshine, posing like princesses in the palace!
In the Hanbok Rental Store

Gyeongbuk-gung Palace
Being in a completely different environment might be frightening but also challenging. We had to adapt ourselves to the food, weather, customs, language, and many more. But it wasn't as hard as I had thought, because of my best buddy ever, named Jingyeong. She always helped and kept me company. 감사합니다 :D (Thank you). Also, thanks to all international friends and Korean buddies that I can't mention one by one that made it easier for me to go through any difficult situations, and made my trip a priceless and unforgettable one. They made me fall in love with a city I had never been to before and the people I had never met before. At last, I just want to say: Nobody owns the world. So feel free to explore it! Never miss the chance to study abroad.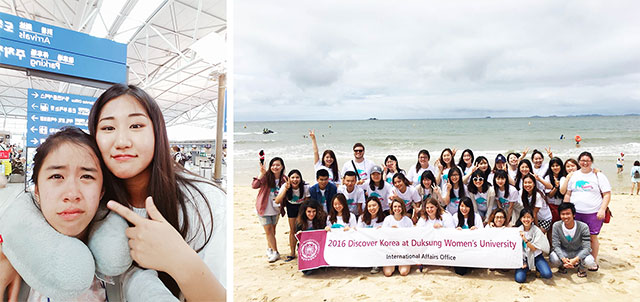 Jingyeong and all of participants (I was very sad to say good bye I couldn't stop crying)