Adeline & Friends: Student Ambassadors for ASEAN Project at Prince of Songkla University, Thailand
สบาย สบายz
Sabye Sabye (Just Relax/Chill)
Adeline Kusuma, Ananda Phan Iman, Elizabeth Charlotte, Jessica Laay, Meliani Muljoredjo
Student Ambassadors for ASEAN Project at Prince of Songkla University, Thailand (Spring 2016)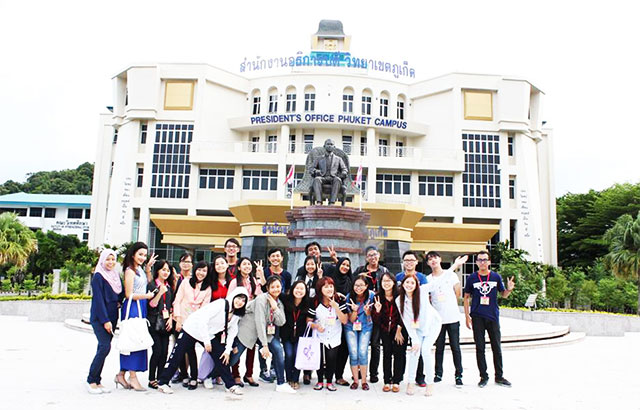 All Delegates in front of Prince of Songkla University
Five BINUSIANs received the scholarship to join the Student Ambassadors for ASEAN Project 2016 at Prince of Songkla University, Thailand. We proudly represented Indonesia during the 1-week program from 14 – 20 June 2016. The program focused on cultural exchange, and was joined by participants from some ASEAN countries (Thailand, Vietnam, Myanmar, the Philippines, Malaysia and Indonesia). We learned Thai language, culture and musical instruments. Aside from learning, we also got to enjoy the beauty of Phuket as well as visited a number of the tourist attractions.
| | |
| --- | --- |
| | |
| Introducing Angklung to All Delegates | Learning Thai Traditional Music |
We had the opportunity to visit some of the wonderful places in Phuket, like:
Chillva Market and Phuket Weekend Market, where we enjoyed the sparkling night of Phuket through shopping, tasting the local food accompanied by live music
Rang Hill, where we could see the whole of Phuket city
Phuket Old Town and Promthep Cape, the must visit places in Phuket!!
Phuket Aquarium, the place to learn about Phuket Marine Environment and Sustainable Management
Wat Chalong, a Buddhist temple and where we took some pictures (because it is so beautiful!)
We were also involved in a CSR Activity in Elementary School, in which we made ASEAN Corner and donated some books from each of our countries to raise student awareness about reading books.
| | |
| --- | --- |
| | |
| CSR Activity in Elementary School | Pose in Phuket Aquarium |
| | |
| --- | --- |
| | |
| At Promthep Cape, Landmark of Phuket | Group Picture at RangHill (Place to see the whole Phuket) |
For us, Thailand is not merely a country with good touristic places, culture, food but also lovely people. Therefore, having new Thai friends who are very warm, kind-hearted and welcoming, has successfully made our memories in Thailand more than perfect! They were highly appreciative of Indonesia and our culture as well, that we made a promise to meet up in Jakarta! We really can't wait to meet them again. Five days in Phuket were too short, but those were some of the best days of our lives!!!
| | |
| --- | --- |
| | |
| Memorable Dinner with ASEAN Friends | Last Night Cards Playing with ASEAN Friends |
Last but not least, we would like to give our massive thanks to BINUS International Office, International Affairs Centre of Prince of Songkla University and everyone who helped us during this memorable program. Your assistance is so meaningful for us :)
We proudly present our story to all of you in hope that it could inspire others to join any international youth programs, make international friends and simply be a global citizen!
สู้ๆ! (SuSu=Fighting)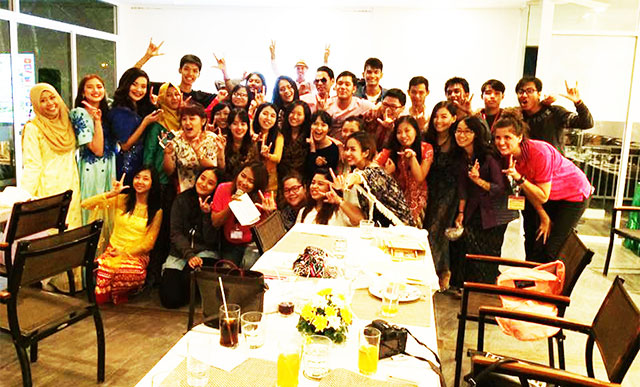 ASEAN Farewell Night Party at Naiyang Beach Resort
P.S.: We challenge you to join any international youth program!