BINUS Business School Earns Top MBA Program Title in Indonesia for Third Consecutive Year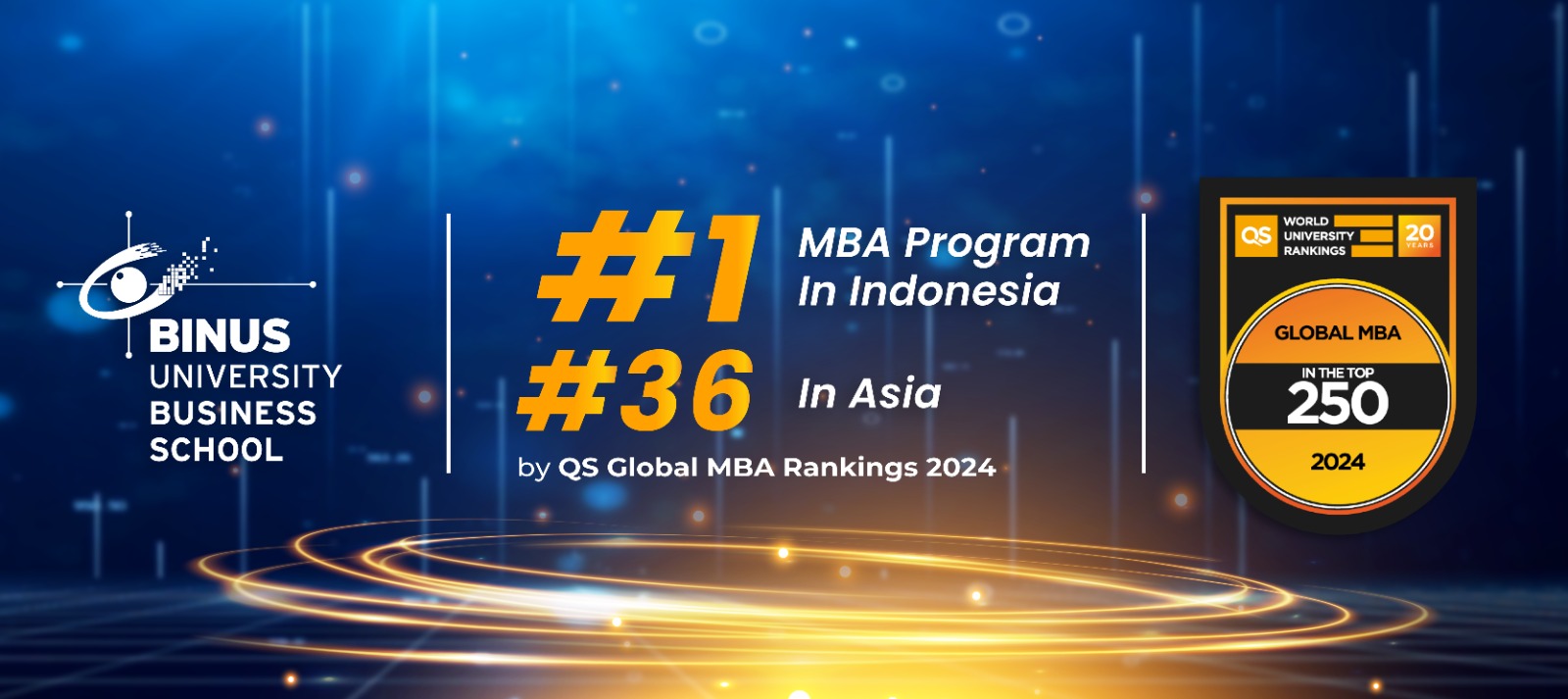 Jakarta, 30 October 2023 – BINUS Business School (BBS) has achieved an impressive milestone by securing the top position for MBA programs in Indonesia for the third year in a row, as per the recently released Quacquarelli Symonds (QS) Global MBA rankings for 2024. This accomplishment underscores commitment to empowering aspiring leaders and professional entrepreneurs who can drive societal progress.
The latest QS Global MBA 2024 rankings reveal that BINUS Business School ranks 201st-250th  globally, placing it among the top 250 MBA programs worldwide. In the Asian region, BINUS Business School holds the 36th  position, an improvement from last year's 37th  position. On a national scale in Indonesia, BBS proudly stands as the leading MBA program in the country.
"BINUS Business School's reputation has been acknowledged globally through different recognition schemes such as QS Global MBA rankings and AACSB accreditation, highlighting our strong foundation in the area of business management," said Prof. Dr. Tirta Mursitama, Ph.D., Vice Rector of Collaboration and Global Engagement.
BINUS Business School's achievement in Indonesia further solidifies the quality of its education, marking the third consecutive year of holding the top position. The QS Global MBA assessment considers various factors to ensure a comprehensive evaluation. This includes the employment rate of graduates, campus diversity, and the academic research contributions of alumni. These elements demonstrate the school's ability to create an environment conducive to research innovation and skill development for industry competitiveness through collaboration and engagement.
Acknowledging their achievement in the global, regional, and national QS Global MBA 2024 rankings, BINUS Business School emphasises the crucial role played by its academic staff. These educators are instrumental in imparting knowledge and experiences to students, enabling them to apply what they've learned and make a real impact on society, further strengthening the evidence of the university's quality.
In response to this achievement, Dr. Rini Setiowati, Dean of the BINUS Business School Master Program, expressed gratitude for all parties' support and hard work. She highlighted the potential of this achievement to contribute even more to business education and community empowerment in Indonesia.
"We hope this achievement can contribute even more to business education by nurturing and empowering the people of our beloved nation, Indonesia. Thank you for all stakeholders' support and hard work towards BINUS Business School in providing the best business education in Indonesia. " Said Dr. Rini Setiowati.
This achievement is a testament to the school's consistency in empowering students and preparing them for success in the industry, thanks to their dedicated academic staff.