BINUS University Excels in Four Disciplines on the Times Higher Education Rankings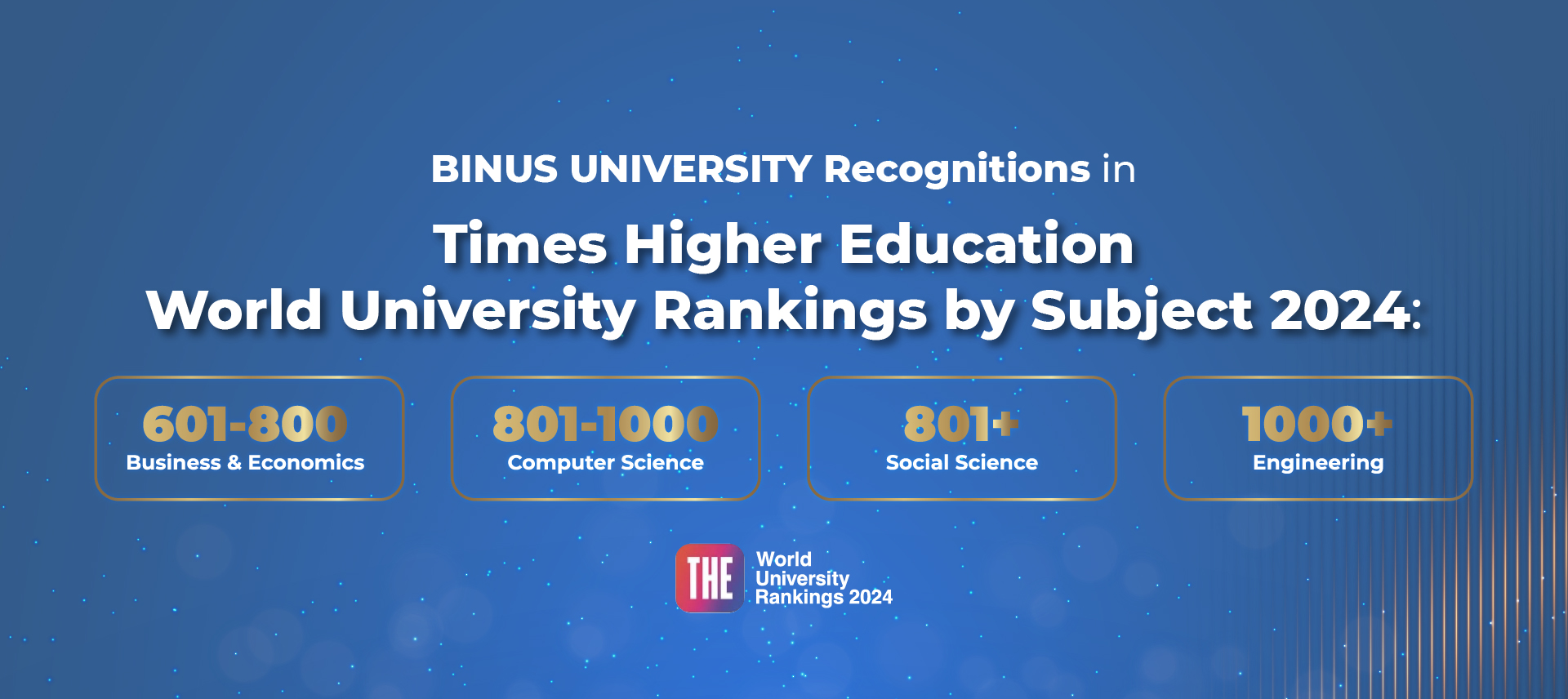 Jakarta, 26 October 2023 – BINUS University has once again received praise from Times Higher Education for its outstanding performance in the World University Rankings by Subject for 2024. This recognition highlights the institution's dedication to providing top-notch education in four critical disciplines: Business and Economics, Computer Science, Engineering, and Social Science.
As outlined on the official website of Times Higher Education, our university ranks 5th in Indonesia and 601-800 globally for Business and Economics, with an overall score range of 23.0-31.2. Among Indonesian universities, BINUS achieved the highest score of 42.8 in the Research category.
In Computer Science, BINUS ranks third among eight Indonesian universities and is positioned 801-1000 globally, with an overall score range of 16.9-25.9.
For Engineering, BINUS is at the seventh place in Indonesia and 1001+ globally, with an overall score range of 8.3-23.5.
In Social Sciences, BINUS is fifth in Indonesia and ranked 801+ globally, with an overall score range of 11.3-23.3.
"Thanks for recognizing our efforts to provide quality education in these four fields. This acknowledgment reflects our commitment to excellence," said Dr. Nelly, S.Kom., M.M., CSCA, the Rector of BINUS University.
The Times Higher Education WUR 2024 by Subject uses 18 indicators to assess each field and divides them into five categories: Teaching (the learning environment), Research environment, Research quality, International outlook, and Industry. For more information, kindly refer to the website.
"This achievement reflects BINUS University's global reputation and our strong foundation for future achievements, acknowledged Prof. Dr. Tirta Mursimata, Ph.D., Vice Rector of Collaboration and Global Engagement at BINUS University.
Times Higher Education has also recognized BINUS in other categories, including THE World University Rankings 2024, where BINUS is positioned at 1201-1500, THE Impact Rankings 2023, where BINUS is placed at 801-1000, and THE Young University Rankings 2023, where BINUS is ranked at 401-500.