BINUS UNIVERSITY Shines Among the Top 20 Universities in Indonesia in Times Higher Education Impact Rankings 2023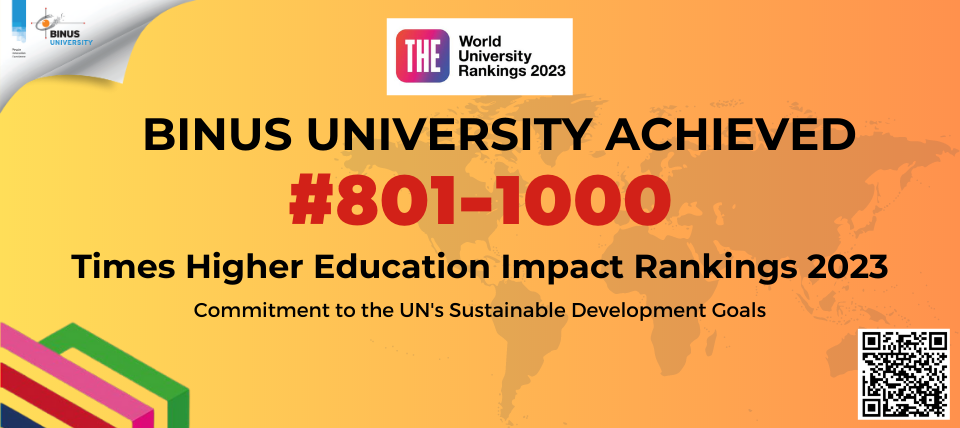 Jakarta, 1 June 2023 – In the recently released Times Higher Education Impact Rankings 2023, BINUS University secured a spot within the top 20 institutions in Indonesia and achieved a global ranking of 800-1000.
BINUS University ranks at the 19th position among Indonesian universities, securing a total score ranging from 53.9 to 59.6 across 11 SDG categories. These categories encompass a wide range of SDGs, including No Poverty, Good Health and Well-Being, Quality Education, Decent Work and Economic Growth, Industry, Innovation, and Infrastructure, Reducing Inequalities, Sustainable Cities and Communities, Responsible consumption and Production, Life on Land, Peace, Justice, and Strong Institutions, and Partnerships for the Goals.
The rankings evaluating universities based on the United Nations' 17 Sustainable Development Goals (SDGs) recognized our significant contributions across various domains. From reducing poverty and promoting quality education to championing gender equality and fostering sustainable communities, the university has positioned itself as a catalyst for positive change.
"This represents BINUS University's commitment and tangible contribution to SDGs related to the economy, human resource development, equality, community sustainability, and other SDG points. We are dedicated to leveraging innovation in the field of information technology to further contribute through innovative works for our nation and country," said Prof. Dr. Ir. Harjanto Prabowo, M.M., Rector of BINUS University.
As part of the core, BINUS University is committed to fostering and empowering society by actively engaging with the community as well as cultivating an environment that encourages faculty and students alike to delve into forward-thinking concepts and ensure a tangible impact on the SDGs.
The recognition received by BINUS University in the Times Higher Education Impact Rankings is a testament to its unwavering pursuit of excellence. By participating in the rankings since 2021 and joining the esteemed Sustainable Development Solutions Network, the institution has solidified its position as a global leader in higher education.
BINUS will continue to facilitate research and community empowerment activities, which are the works of faculty members and students that demonstrate contributions to SDGs. With its strengths in Business and Computer Science (IT), BINUS prioritizes SDG issues in the areas of innovation, technology, business, and sustainable education, aligning with BINUS' 2035 vision: Fostering and empowering the society in building and serving the nation through nurturing exemplary character, advancing knowledge, and promoting innovation (creative, process, technology).