Erasmus+ Mobility Grants with University of Limerick for Teaching and Non-Teaching Staff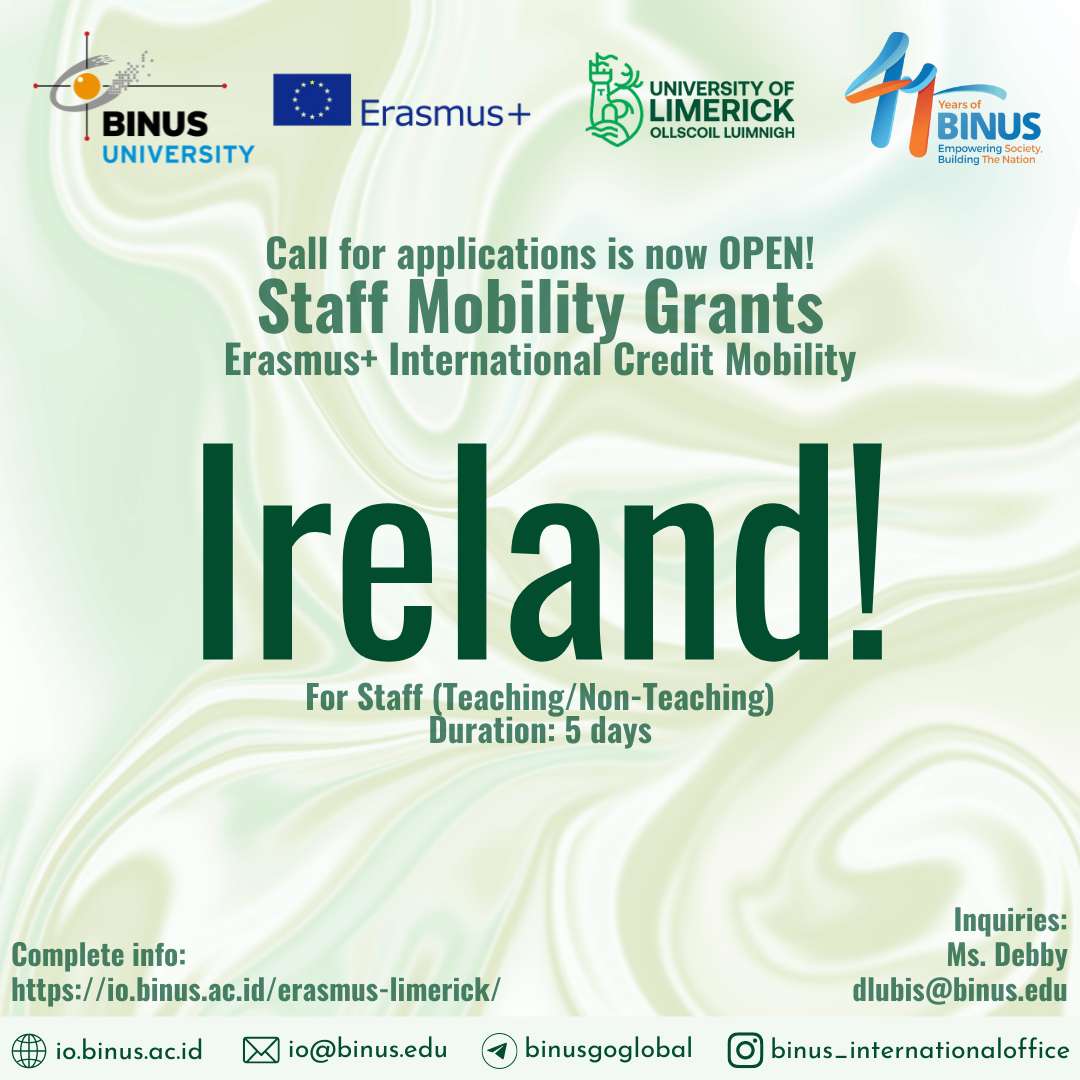 BINUS University proudly participates in the Erasmus+ International Credit Mobility (ICM) program which offers funded mobility for Teaching/Non-Teaching Staff from Indonesia to the University of Limerick in Ireland.
One of the objectives of the Erasmus+ International Credit Mobility Programme is to promote mobility with leading universities in countries with emerging economies like Indonesia. The main purposes of this call are:
To offer training, research, and study development opportunities to staff at participating universities;
To support staff achieve sustained improvements in knowledge, teaching, and research skills;
To forge and deepen lasting links between the University of Limerick and its partner universities thus enhancing transnational academic cooperation;
To improve participants' language and cultural skills, promoting mutual enrichment and understanding.
DURATION
5 days between June 30 and July 13, 2023
AVAILABLE SEATS
2 (two)
SCHOLARSHIP COVERAGE (Total EUR 2,760/awardee)

Subsistence EUR 180/day (5 days of program + 2 days of travel = 7 days, total EUR 1,260)
Travel allowance EUR 1,500
APPLICATION DEADLINE
April 13, 2023
BINUS INTERNAL SELECTION

Step 1. Download and complete the Mobility Agreement.
Fill out the highlighted table.
The sending institution signatory must be your direct supervisor (min. grade 15).
Leave the receiving institution signatory section blank.
Notes:
A minimum of B2 level of English is required. The B2 level is equivalent to a score of 72-94 in TOEFL iBT and a score of 5,5-6,5 in IELTS.
The staff member must be under contract or permanent employment at BINUS University. Associate Faculty Members (AFM) are NOT eligible to apply.
The staff member must be from the area of entrepreneurship.
Those applying for mobility for teaching and training: Complete the Mobility Agreement – teaching and training.  The teaching and training mobility requires at least 4 hours of teaching activities and the program of training activities should be indicated. Training activities must be conducted by the University of Limerick, not by the applying participant. The bulk of the activities of mobility for teaching should include giving classes, seminars, tutorials, workshops, presentations, etc.
Those applying for mobility for training only: Complete the Mobility Agreement – training only. Please note that by training activities it is understood that the applicant will receive training, not give it. In the case of mobility for training, it would be attending classes, seminars, labs, presentations or workshops, job shadowing, etc. Also, the participant can engage in work meetings, planning, and development of Erasmus+ cooperation, and promotion, as well as participate in conferences, collect data, and engage in other research activities.
The agreement can be filled in English or Spanish. The length of your answers to qualitative questions is not limited (keep it within reasonable limits) and has to provide enough information for the evaluators to assess your application.
Step 2. Prepare your abridged CV (max. 2 pages).
Make sure it is updated and serves the purpose of helping the evaluator assess your application. There is no pre-determined format for the CV and it can be in English or Spanish.
Step 3. Apply to the online form: https://bit.ly/erasmus-limerick by April 13, 2023, for the internal selection and nomination process. Please login with your Binusian email (@binus.edu or @binus.ac.id). You have to upload the following documents:

An abridged CV
The complete and signed mobility agreement
A copy of the valid passport
UNIVERSITY OF LIMERICK SELECTION

If you are nominated by BINUS University, your application will be submitted to the University of Limerick Selection Committee along with the letter of recommendation issued by BINUS Global. If you are selected, you will be emailed by the UL team. You must submit the following documents:
Staff training or teaching/training mobility agreement (depending on the type of mobility to be carried out) in the official Erasmus KA107 format. Once completed and signed by the staff member and the Erasmus coordinator at the sending university, the agreement should be sent to the Erasmus contact person at UL for signature.
Grant agreement in the official Erasmus KA107 format, signed by the staff member.
An abridged CV
Copy of English proficiency test certificate
Copy of your identity card/passport
Proof of health insurance that covers Travel Assistance and Accident Insurance including medical, surgical, and hospitalization expenses in Ireland
Should you have any further questions about the Erasmus+ mobility grants, please get in touch with Ms. Debby at dlubis@binus.edu.
Join the BINUS IO—Special Programs Channel on Telegram or follow our Instagram binus_internationaloffice to stay updated.
Good luck!\dl