BINUS University Ranked #1 Private University in ASEAN+ for 2023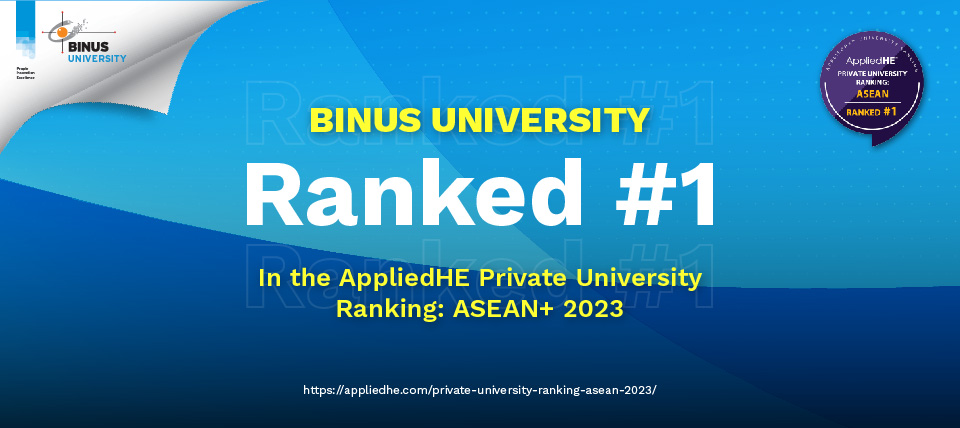 Jakarta, 23 February 2023 – BINUS University takes great pride in maintaining its position as the #1 private university in the AppliedHE Private University Ranking: ASEAN+ 2023.
The ranking criteria focused on several key areas, including:
Teaching and Learning (40%), which measures student satisfaction with teaching, facilities, and the ratio of lecturers to students
Employability (15%), which measures the percentage of graduates who are employed or continuing their studies, as well as the percentage of respondents monitored after graduation (alumni tracer study)
Research (15%), which measures the number of impactful research (and often cited) publications per faculty in the past five years
Community Engagement (10%), which measures student involvement in social and environmental activities, support for students (such as assistance or scholarships), and media exposure
Internationalization (10%), which measures the number of international students and faculty on campus, as well as for students who attend virtual classes from outside the country
Institutional Reputation (10%), which is based on nominations given by other universities
The university has worked tirelessly to achieve this ranking, scoring the highest, thanks to our unwavering commitment to providing high-quality education and research opportunities.
"We express our gratitude to AppliedHE for acknowledging BINUS University. We are grateful for the dedication of all BINUSIANs who strive to provide the best education, resulting in an education process at BINUS University aligned with AppliedHE's assessment. This recognition would not have been possible without the support and trust of all stakeholders, including the government, parents, industry, and the community who continuously inspire and motivate BINUS University towards achieving its vision of becoming a world-class university," said Prof. Dr. Ir. Harjanto Prabowo, M.M., Rector of BINUS University.
In addition to being recognized last year, BINUS University is also leading other Indonesian universities listed in the ranking. This achievement further reinforces the university's status as a beacon in higher education and a pioneer in driving positive change in Indonesia and beyond.