Transportation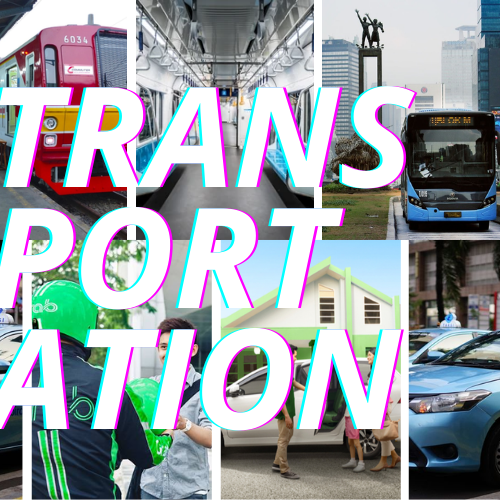 Going around with Public Transport
Shuttle Buses
If you are staying at BSQ, there are free shuttle buses service available from BSQ to all BINUS Jakarta campuses, and back to BSQ. Always check the schedule of departure and return. 😊
If you are staying outside BSQ, it is pretty easy to get around too. There are many types of public transportation you can use in Jakarta (and in other cities in Indonesia too!). The price of public transportation in Jakarta is varied depending on its mode and distance. However, public transportation in Jakarta is not expensive at all.
GRAB and GO-JEK (Online Driver)
Both are multi-service tech platforms providing access to a wide range of services including transport, payments, food delivery, logistics, and many more. You can download it on App Store or Play Store. For transportation, it provides motorbike ride-sharing, car, and taxi drivers. These platforms are recommended for you to use as it is quite cheap and easy especially when you are not in peak hours. In general, the price for GoRide (motorbike) is IDR 3,00 However, there is a minimum fee for one trip of around IDR 14,000 (USD$0.98).
Tips: the more often you use the services, the more XP points you can collect. The XP points can be exchanged for ride offers/ discounts.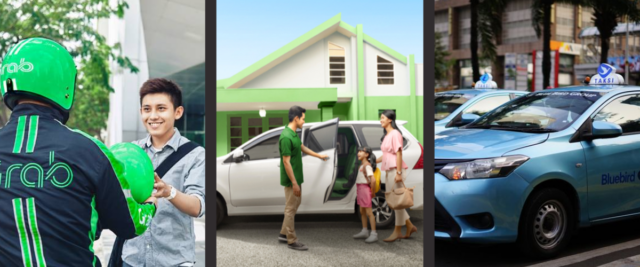 Taxis
Bluebird taxi is one of the most trusted taxi service providers in Indonesia. You can recognize them by their sky-blue-coloured taxis, with a bird logo on them. Bluebird has its own online application to book its taxis, or you can just easily stop any Bluebird taxis passing by. It uses a metered fee system (based on distance and/or time), and through the application, you can see how much your trip will be and if you can get a fixed fee instead of a floating metered fee (which can rise up quite high under heavy traffic). The rate is quite competitive to Grab Car or Gojek Car services.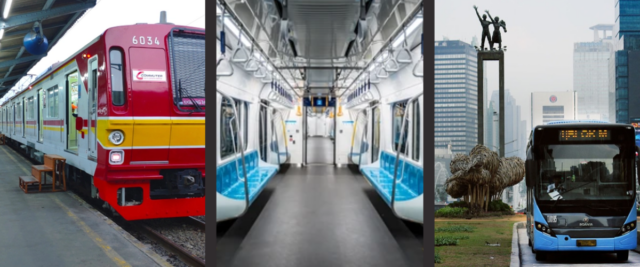 Commuter Line (KRL) and Mass Rapid Transit (MRT)
If you have had BINUSIAN Card or Flazz Card, you can use it for KRL and MRT. However, if you do not have it, you need to buy Multi Trip Ticket (MTT) through the locket or Ticket Vending Machine (TVM).
The regular MTT of Commuter Line has a lifetime period and costs IDR 30,000 (USD 2.09), it has included the balance with IDR 10,000 (USD 0.70). The KRL fare is IDR 5,000 (USD 0.35) per first 25km and will increase by IDR 1,000 (USD 0.07) per next 10km. Tips : From Jakarta Tanah Abang station to Bogor station takes only IDR 6,000 (USD 0.5)!
The regular Multi Trip Ticket of MRT costs IDR 25,000 or USD 1.74. The MRT fare minimum is IDR 3,000 (USD 0.21) and will increase by IDR 1,000 (USD 0.07) per next station.
TransJakarta (TJ)
TJ is a fast bus system using an electronic card by local e-money (your BINUSIAN Card also works for the TransJakarta) for payment, but you can also use free TJ Card for new customer. You can explore around Jakarta by TransJakarta, and its bus stops are almost anywhere in Jakarta. The TJ fare is from IDR 3,500 – IDR 4,000 (USD 0.24 – USD 0.28) for one ride per route (Tips: if you need to exchange your bus, most of the time you don't have to pay extra fee unless you are exiting the bus station).
Driving Your Own
International students can have or rent their own vehicle. Note that if you plan to use your own vehicle and drive to get around, you need to have an international driving license.  You can register to apply for an international driving license usable in Indonesia here.
And here is some info on gasoline costs and other additional ones such as parking and toll fees. In general, the car gasoline price in Jakarta is between IDR 9,000 to IDR 13,700 (USD 0.97) per litre. Moreover, you need to pay the parking fee wherever you go around Jakarta. If you park in a building or non-building parking area, the average car parking fee is IDR 5,000 (USD 0.35) per hour (or a flat rate at some parking areas).