Shopping for Clothes, Gadgets, and other Miscellaneous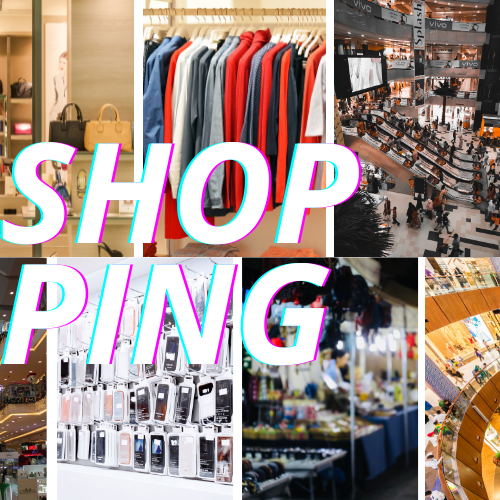 You will be surprised to find that even a local traditional market has a clothes section, and even jewellery and books! While you can find hidden gems in the local traditional market, our students usually prefer shopping online or going to malls to shop for clothes, gadgets and electronics, and other miscellaneous.
Here are some recommendations and price ranges you can find:
Online shopping platforms
Shopee and Tokopedia are one of the most popular online shopping platforms used in Indonesia. You can find almost anything you need there in various ranges of price. The same product can be sold at a reasonable cheap price online. Note: make sure you check the reviews and purchase from trusted sellers (official or star sellers) to avoid scams or low-quality products. Always chat with the sellers first to see how they will be helpful, and if you want to check more about the product.
Malls and shopping centers:
Clothing:
Locals often go to ITCs (International Trade Center) – where various sellers offer local brands, unbranded imported goods, and 'branded' duplicate goods at a cheaper price. You can find many ITCs around the Jakarta area, with ITC Mangga Dua, ITC Tanah Abang and Blok M Square specializing in clothes. A good pair of locally branded jeans can be sold at only IDR 100,000 – IDR 250,000. You can find a good pair of locally produced sneakers at IDR 150,000 – IDR 350,000.
While ITC can be not as comfortable to shop in, most malls offer local clothing brands too, and international brands such as H&M, Zara, Topshop, Uniqlo, and many more. Some retailers even have a discount section of branded goods where you can find hidden gems for your needs. You can get clothing items as cheap as ITC's rate at malls too! Our students' favourite malls include: Central Park Mall and Neo Soho, Ciputra Mall at Tomang, Grand Indonesia, Senayan City, Pondok Indah Mall, and Gandaria City.
Gadgets and Electronic appliances:
ITCs also sell electronic gadgets! You can find ITC Roxy, Mangga Dua Mall, and Harco Complex to shop and fix any gadgets (phones, laptops, PCs, etc.).
Malls also have official resellers of branded gadgets, such as Samsung stores, iBox and Digimap for Apple products, or Erafone counter which sells all sorts of gadget brands. Electronic City sells other appliances – such as rice cookers, coffee makers, TV sets, or small fridges for your room.
The price ranges for your gadgets and electronic appliances are usually similar to what is internationally published.
Other Misc.:
Looking for some tools and hardwares, beddings, or simply a decorations for your room? Visit Ace Hardware, Informa, Mr. DIY, or stores like Miniso, etc. at the malls.