Food and Groceries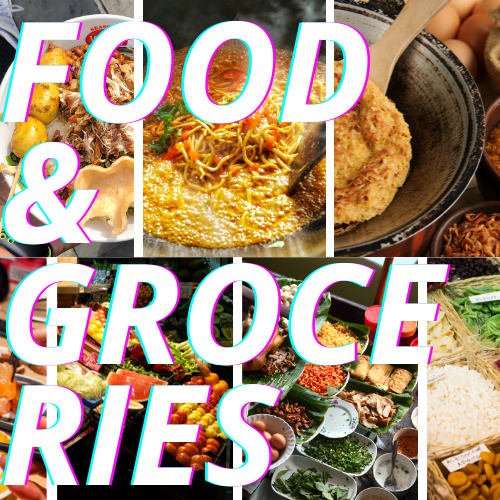 "Where can I get a meal?"
There are many kinds of cuisine in Jakarta, not only Indonesian cuisine but you can also find other countries' foods such as Chinese, Korean, Japanese, Middle Eastern, African, Mexican, Brazilian, and many more. You can order it by online food delivery through GRAB and GO-JEK. The categories and prices are varied as well:
Street food
If you are an adventurous lad, Indonesia offers an unimaginable variety of street foods. From tasty traditional favourites to international street food with a twist, you can get them at an affordable price. The food is often sold in carts, hawker stalls, or tents beside a road. You only need to spend IDR 10,000 – IDR 50,000 (USD 0.7 – USD 4) per person for one meal. This way, you can experience the taste of Indonesia affordably – however, consider the hygiene of the food sold and if you are accustomed enough to the food here.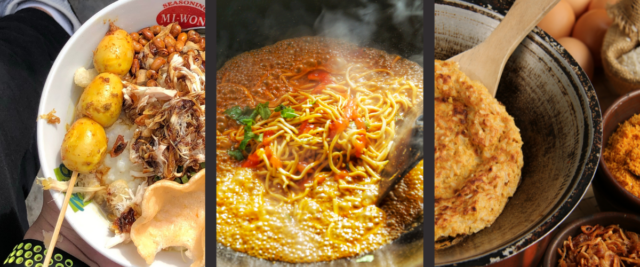 Canteen / Warung Food
Your campus and BSQ have their own cafetaria area that offers healthy, affordable food that caters to various diets. There are also eating houses called "Warung Nasi", where you can get rice accompanied with veggie and meat dishes of your choice. It depends on the kind of food you order, but the cost for one meal starts from IDR 15,000 to IDR 60,000 (USD 2 – 4). You can also get our famous "Nasi Padang" with Rendang beef in one of the Padang food eating houses for cheap (approx. IDR 20,000 (USD 1.3) only)!
Mid-range Restaurant/ cafes
For the mid-range restaurants or cafes, it may cost around IDR 50,000 – IDR 100,000 (USD 3.5 – USD 7) per meal.
Indonesians love our coffee and tea – and a good chat, and lots of coffee shops and tea shops scattered around the town offering affordable coffee and tea with some bites to eat and instagrammable spots. Generally, one glass of coffee or tea may cost IDR 20,000 – IDR 50,000 (USD 1.4 – USD 3.5), and the snacks or food at a coffee shop costs around IDR 20,000 – IDR 75,000 (USD 1.4 – USD 5). A good cup of americano and a plain butter croissant at a local coffee shop, with a beautiful, relaxing spot, with Wifi available, with only IDR 40,000 can be your perfect getaway after class.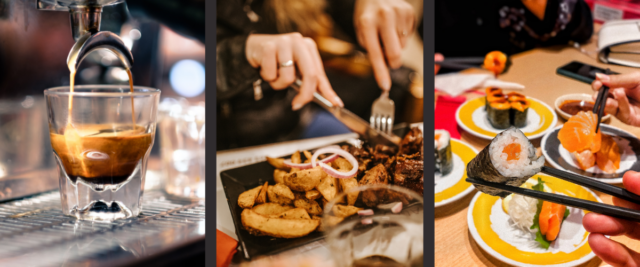 Mall Restaurants
There are various kinds of restaurants offering local and international dishes when you go to the mall. The average price for one meal in the mall is from IDR 50,000 (USD 7) per meal with drinks. There are also fast-food chain restaurants like KFC, McDonald's, Yoshinoya, etc. easily found in the malls.
High-end Restaurants
For a high-end restaurant, a meal might cost you around IDR 300,000 (USD 20) or above for one meal per person.
Bars for your nightlife fun are also in the mid to high price range for a drink and meal. Alcoholic drink in Jakarta is rather pricey because only a few places sell them and not many local people drink alcohol. A bottle of local-brand beer at bars or restaurants may cost around IDR 30,000 – 60,000 (USD 2 – USD 4). Cocktails start from IDR 100,000 (USD 7) per glass.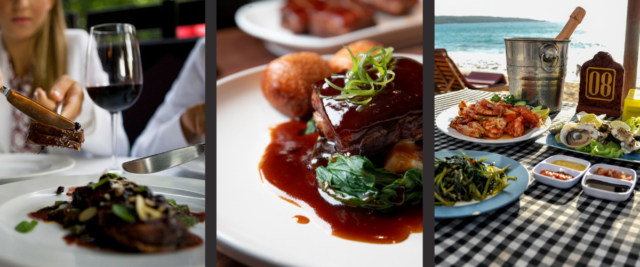 Cooking your own meals for your daily life
For groceries, you can buy food at supermarket or local market where you can get everything for cheaper prices. You can also buy it by online through platform such GRAB and GO-JEK, or HappyFresh, Sayurbox. Some of your favourite supermarkets also have their own online shopping services. If you prefer to cook by yourself to suit your allowances, here are some price reference on basic ingredients:
Chicken (500gr): IDR 38,000 (USD 2.8)
16 Eggs (1kg): IDR 27,000 (USD 2)
Bread (1 loaf): IDR 15,000 (USD 1)
Milk (1lt): IDR 22,000 (USD 1.5)
Mineral Water (1 Bottle – 1.5lt): IDR 7,000 (USD 0.5), or per gallon (19lt) at IDR 60,000 (IDR 4 for the first purchase) and IDR 19,000 (USD 1.4) for 2nd purchase onwards (by exchanging the empty gallon with filled one)
Cheese (1pack – 165gr): IDR 24,000 (USD 1.7)
Potato (1kg): IDR 25,000 (USD 1.8)
Tomato (1kg): IDR 18,000 (USD 1.3)
Apple (1kg): IDR 35,000 (USD 2.5)
Students' tips:
Shopping from a local traditional market offers you benefits:
cheaper prices for your food or daily needs. You will find the locals can bargain on the prices, or try to get some add-ons to their purchases (i.e. you are buying ingredients for a veggie soup, and you need a bulb of garlic only. Sometimes the seller is kind enough to give you that one bulb you need for free if you have purchased the other ingredients with him!).
Shopping at local traditional markets also often allows you to get small batches of ingredients that you need. If you shop online or at a supermarket, you might need to buy in bigger packages that might be too much for you to spend yourself.
It also gives you exposure to the life of the locals and a place to practice your Bahasa Indonesia.
Shopping at supermarkets tips:
Buying in bulk is cheaper, but you might not be able to finish everything. Try to get your friends to shop along with you, so you can get things at a cheaper price by splitting bulk packages, and avoid unused stuff going to waste. Sharing is caring!
Some supermarkets have a Purchase-with-Purchase program (PwP – where you can redeem some stuff at a reduced price if you spend a certain amount). For example, you are planning to buy shampoo, and the shop has a PwP program where with every IDR 50,000 spent, you can purchase one item at half the price. If you purchase the shampoo without the PwP program, the shampoo costs IDR 50,000 per 500ml bottle, but they have your shampoo under PwP program and sell it for only IDR 25,000. You can shop for other needs that are not sold in the PwP program first that accumulate to IDR 50,000, and later redeem your shampoo at half the original price! It is a steal, right?