Indonesian International Student Mobility Awards (IISMA) 2021
The call for applications 2021 is now CLOSED. The official call for applications 2022 will be available soon. Please visit our website on regular basis, join the BINUS IO—Special Programs Channel on Telegram, or follow our Instagram binus_internationaloffice to stay updated.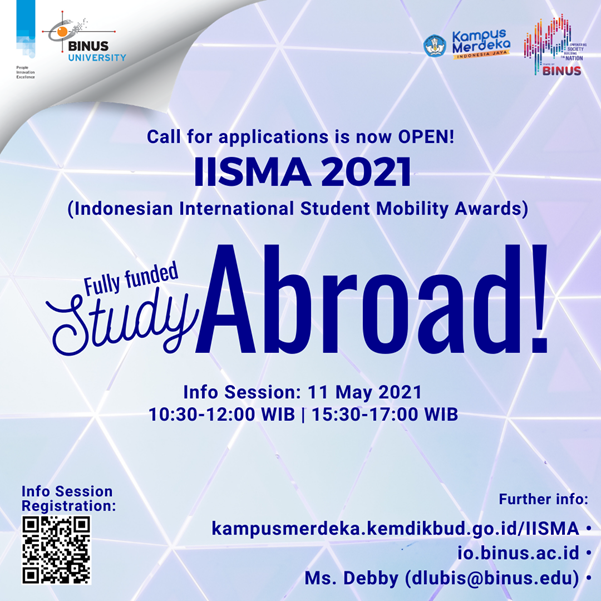 Indonesian International Student Mobility Awards (IISMA) is a scholarship program funded by the Ministry of Education and Culture (Kemdikbud) through the Directorate General of Higher Education (DIKTI). The program aims to mobilize 1,000 undergraduate (S1) students from Indonesia to overseas universities. Successful applicants will spend one semester at a partner university to study, experience different cultures, broaden their network, and expose themselves to the global world.
As part of Kampus Merdeka, initiated by the Kemdikbud, the opportunity to study abroad is open to undergraduate students from all Indonesian higher education institutions under DIKTI.
COVERAGE
Registration and tuition fee at the host university. Please be informed that payment regulation (BP3 and SKS) at BINUS still applies.
Transportation allowance and health insurance
Visa allowance and PCR tests
Living allowance
REQUIREMENTS
Registered as an active student at BINUS University/BINUS University International/BINUS Online Learning
In semester 4-7 of undergraduate (S1) program

Will be in "3+1 Enrichment" Period during Odd Semester 2021/2022 (for BINUS University/BINUS University International Students)

Has strong academics, supported by the latest GPA minimum 3.00 out of 4.00
Has strong English, supported by any English proficiency certificate*
Highly motivated and assertive
Has good personality and maturity
Approved by the Head of Program/Department
Recommended by the BINUS International Office
* Acceptable certificates: TOEFL (iBT min. 80 or ITP min. 550), IELTS min. 6.0, or Duolingo English Test min. 100. BUEPT or other certificates are not considerable. Please be informed that some certificates may limit your options of host university.
Note: If the host university requires a higher level of English proficiency and/or GPA, applicants must meet that requirement to continue their application.
HOW TO APPLY
Step 1: to BINUS (10–19 May 2021)
Fill out the IISMA—[BINUS] Learning Agreement for BINUS Applicants only and have it signed by the Head/Deputy Head of Program/Department.
Fill out the IISMA—[DIKTI] Consent Form for BINUS Applicants only and have it signed by yourself and our parent/guardian.
To request a Recommendation Letter, please fill out the form online here: http://bit.ly/BINUS_IISMA2021 (you must login with your BINUS email) by 19 May 2021. You will need to upload the signed Learning Agreement and Consent Form to complete the request.
Step 2: to Kemdikbud (13–22 May 2021)
If you are granted a Recommendation Letter, you have to apply for the awards by filling out an online application here: (https://kampusmerdeka.kemdikbud.go.id/web/IISMA)  by 22 May 2021.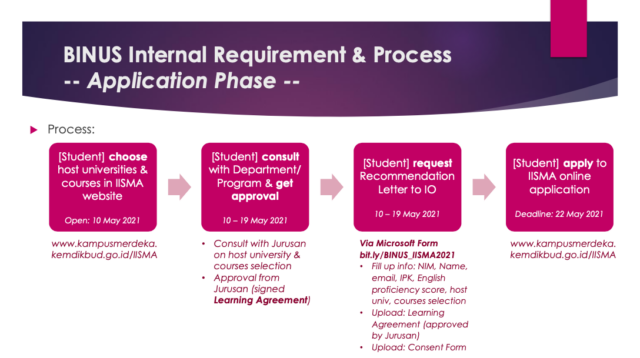 PROGRAM TIMELINE
| | |
| --- | --- |
| Activity | Important Dates |
| Info Session for BINUS Students | 11 May 2021 (10:30–12:00 WIB, 15:30–17:00 WIB |
| Workshop "How to Write a Successful Motivational Letter for Scholarship" | 17 May 2021 (10:00–12:00 WIB) |
| Request deadline to BINUS | 19 May 2021 |
| Application deadline to DIKTI | 22 May 2021 |
| Selection process and interview | 23-25 May 2021 |
| Announcement of result | 28 May 2021 |
| Departure preparation | June–July 2021 |
| Program Dates | Odd Semester 2021/2022 (starts in August/September 2021) |
DOWNLOADABLE DOCUMENTS
FURTHER INFORMATION
Contact
BINUS International Office
Ms. Debby Lubis, International Mobility Academic Section Head (dlubis@binus.edu)
BINUS IO Instagram: binus_internationaloffice
Good luck!\dl