Global Class International Relations Industry Visit to GIZ Indonesia, ASEAN & Timor-Leste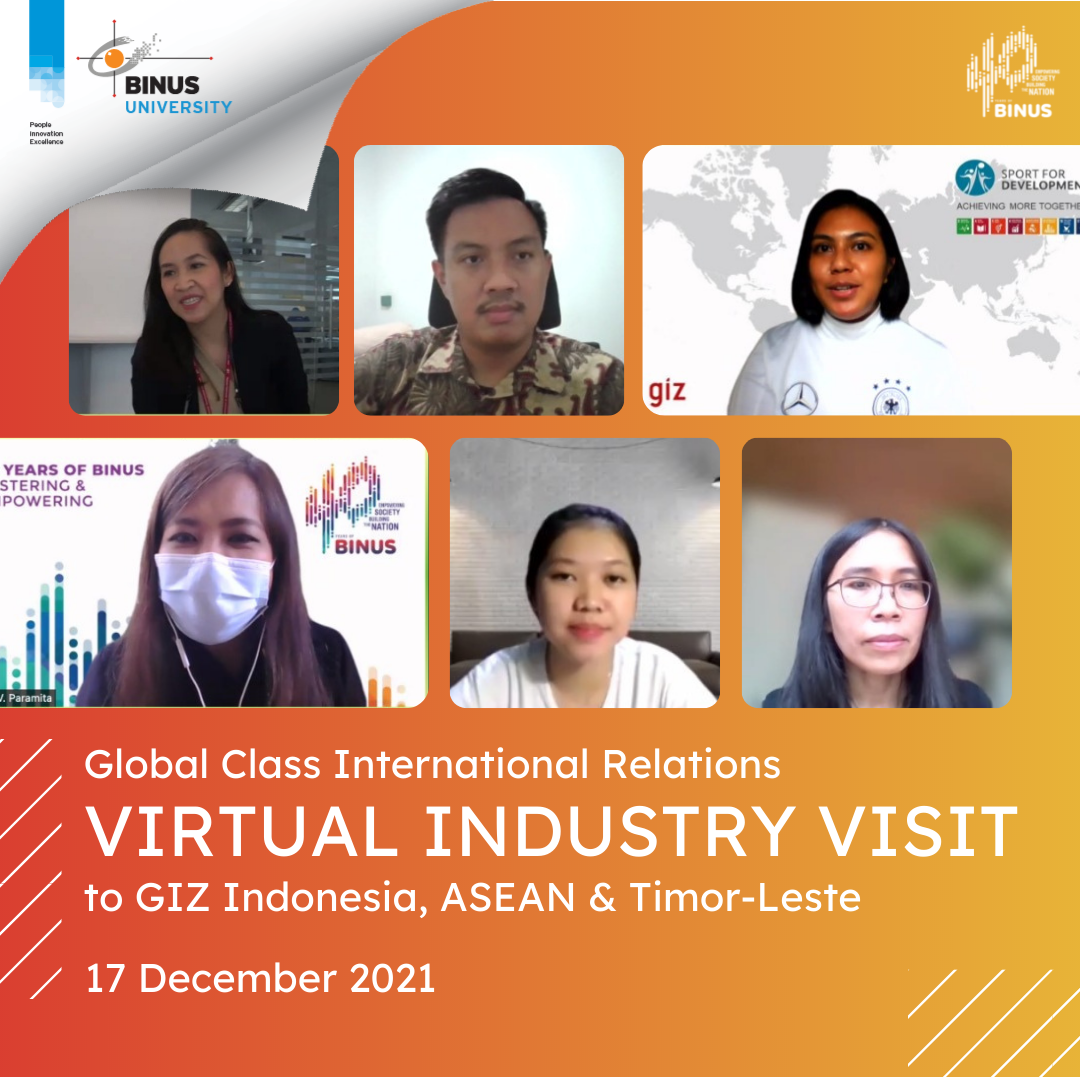 BINUS UNIVERSITY Global Class International Relations students and staff did the last industry visit in 2021 to a German federal enterprise Deutsche Gesellschaft für Internationale Zusammenarbeit (GIZ) Indonesia, ASEAN & Timor-Leste, on Friday, 17 December.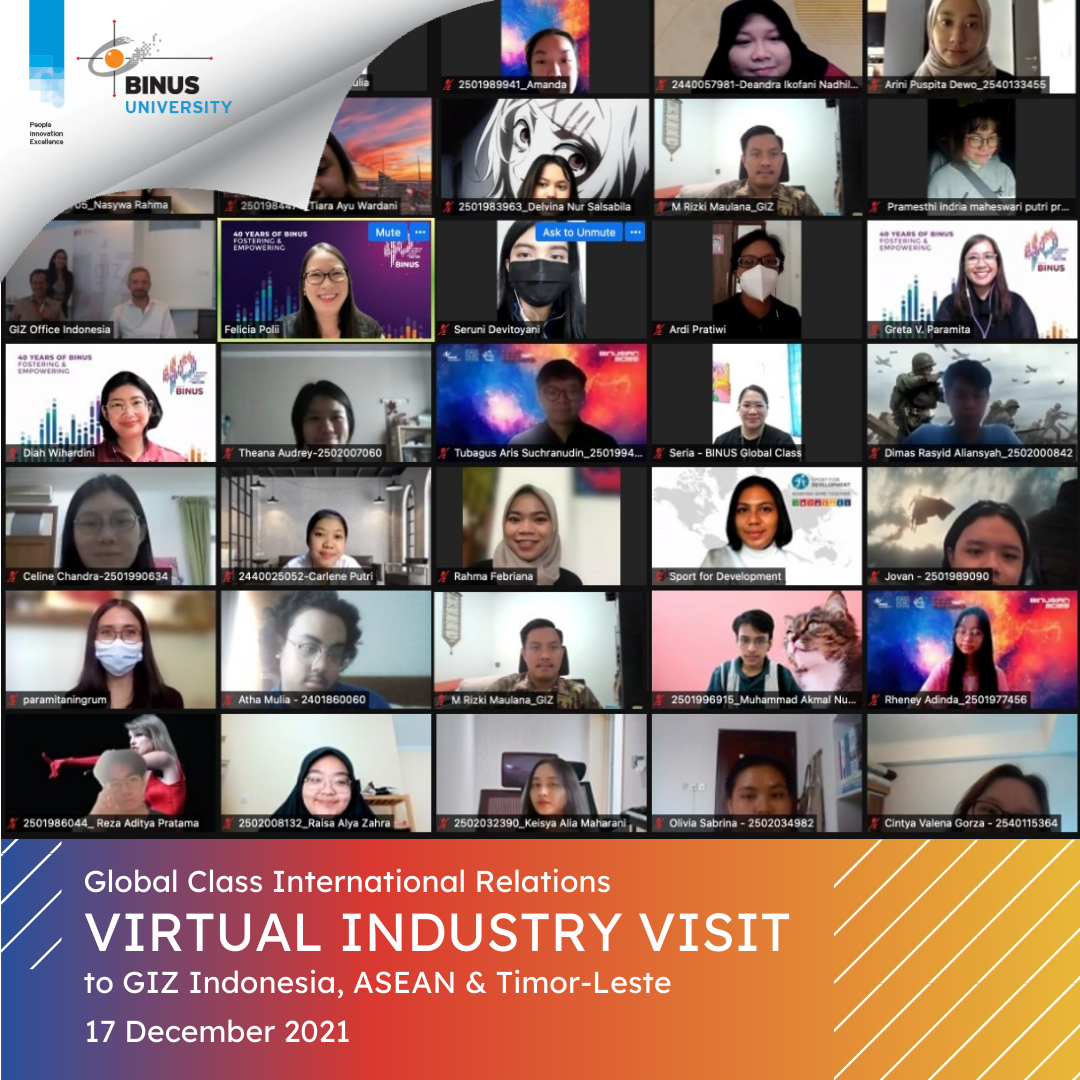 Industry visit is a compulsory program for Global Class IR students that is designed to give them insight into the practical working environment, especially in international organizations, and to prepare them to enter the global market.
Mr. Martin Hansen, Country Director for GIZ Indonesia, ASEAN, and Timor-Leste was also joining the industry visit by delivering a welcoming remark, followed by a brief introduction to GIZ and highlighted the three main pillars of GIZ: climate and renewable energy, sustainable economic development, as well as technical and education vocational training.
Representing BINUS UNIVERSITY, Dr. Diah Wihardini, Director of BINUS Global also gave a welcoming remark by introducing BINUS and Global Class programs.
The virtual industry visit, hosted by Ms. Mira Zakaria, Communications Coordinator, and Mr. Barliana Amin, Portfolio Manager Indonesia & Timor-Leste at GIZ Country Office Indonesia was an opportunity for Global Class IR students to see how GIZ has been supporting worldwide sustainable development and international education work through over 1,600 global projects, including with the Indonesian government and partners.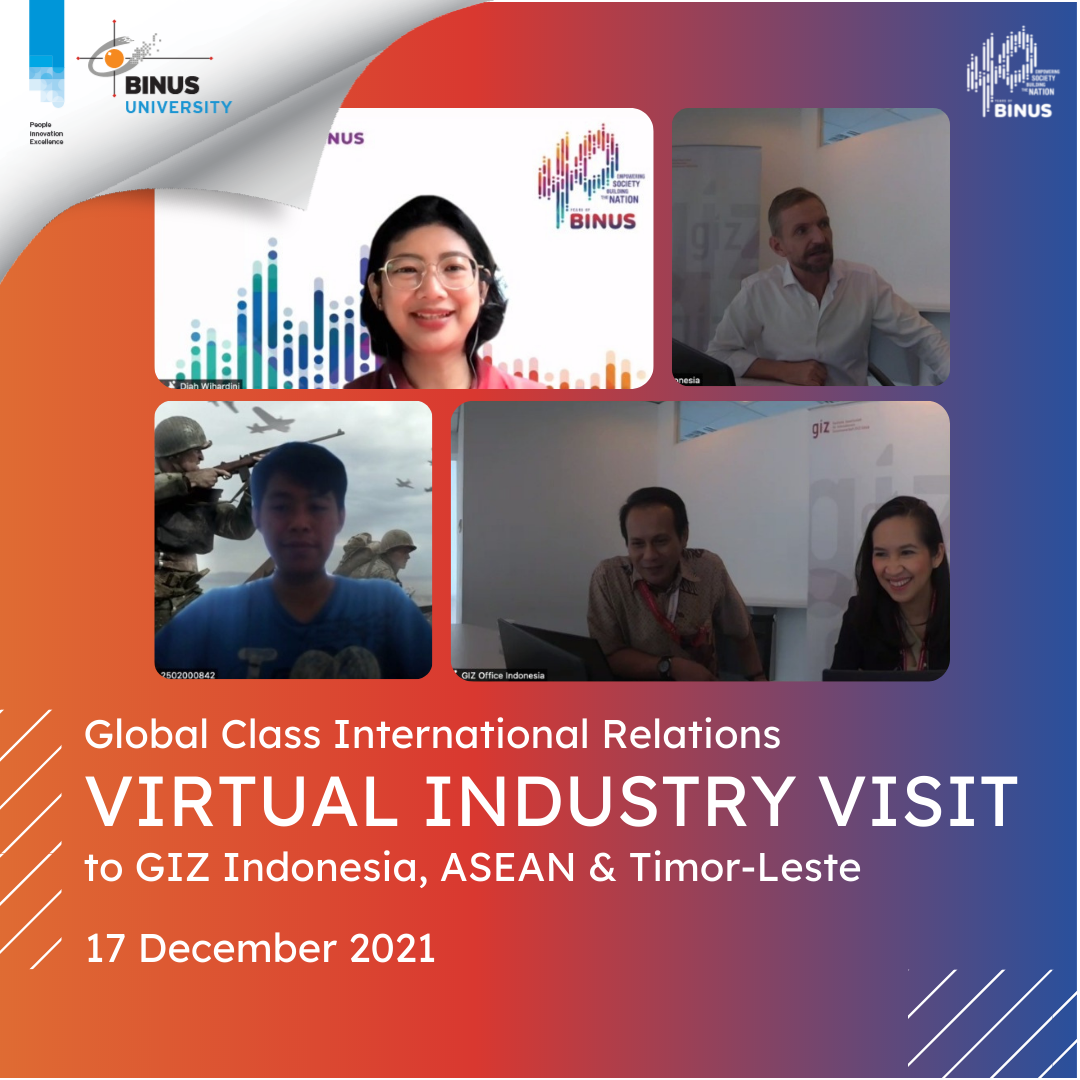 Students were also introduced to the portfolio of GIZ Indonesia, Timor-Leste, and ASEAN. GIZ also showcased some notable examples of their projects, including a digital dashboard tool used by the ExploRE project that contains a database of bioenergy potential all across Indonesia. Another project, Sport for Development was also introduced as an example of how GIZ collaborates with the Indonesian partners through sports.
Students of Global Class were enthusiastic about the industry visit, as during the Q&A session they also discussed what career opportunities are available for them at GIZ, how GIZ operates and collaborates with partners, and how the working culture at GIZ looks like.