International Academic Contemporary Art & Design Exhibition (INACADE) 2021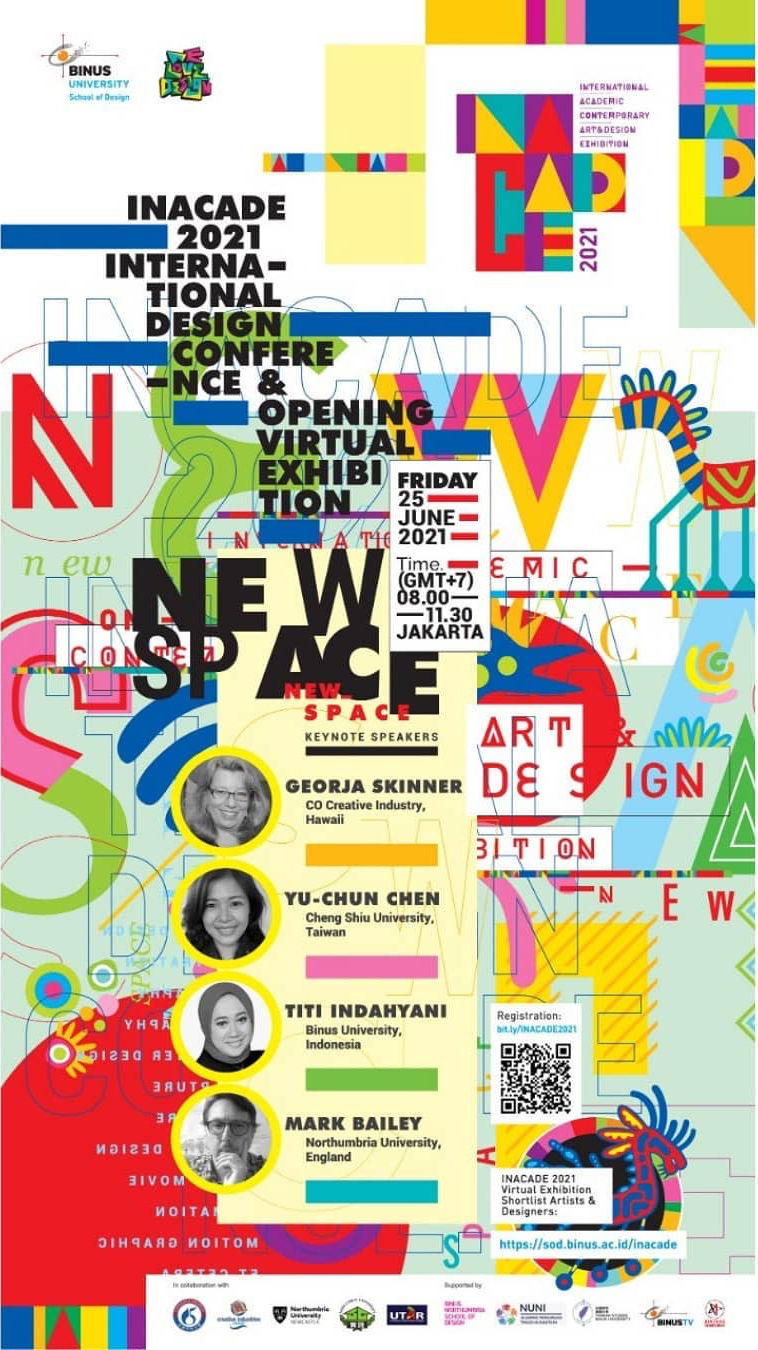 This year's International Academic on Contemporary Art and Design Exhibition (INACADE) curation was announced on June 22, 2021. INACADE is an annual international academic exhibition on contemporary art and design initiated by the School of Design – BINUS UNIVERSITY. The theme for this year's INACADE is "New Space", inviting creative producers, designers and other visual artists to explore new ways and create innovation and offers that were unthinkable from the conceptual, medium development, and further as a solution to the new era. INACADE aims to explore and raise local wisdom and pour it through contemporary visual artwork including graphic design, photography, illustration, typography, furniture, 3D arts, video, motion graphics, animation, etc. 
This year, INACADE received over 180 entries in two artwork categories including flat images and videos from 7 countries including Indonesia, Thailand, Bangladesh, USA, Malaysia, Turkey, and Taiwan. All artworks were curated by Lintang Widyokusumo (BINUS UNIVERSITY), Bang Yao Liu (Shih-Chien University Taiwan), and Yang Suk Lan (UTAR Malaysia). 
The virtual exhibition opening of INACADE 2021 along with International Design Conference were held on June 25, 2021. This event was opened by Prof. Tirta Nugraha Mursitama, S.Sos., M.M., Ph.D as Vice Rector Research & Technology Transfer and Danendro Adi, S.Sn., M.Arts, Dean of School of Design, followed by a performance by LOVADEMICA, a band comprised of BINUS UNIVERSITY International Relations program lecturers. A curatorial video was then played before the conference started.  
Four keynote speakers were invited to present during the International Design Conference, including Georja Skinner from Creative Industry Hawaii, Yu-Chun Chen from Cheng Shiu University Taiwan, Titi Indahyani from Interior Design – BINUS UNIVERSITY, Indonesia, and Mark Bailey from Northumbria University, England.
Explore the INACADE 2021 gallery that showcases an amazing array of talent and imagination of "NEW SPACE" here. The virtual exhibition will be live until 30 December 2021.