BINUS UNIVERSITY signed a collaboration agreement with PT Impack Pratama Industri Tbk.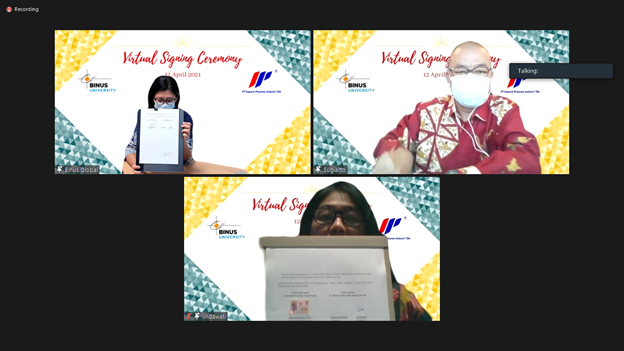 A signing ceremony of BINUS UNIVERSITY, represented by BINUS GLOBAL, and PT Impack Pratama Industri Tbk. was held virtually on Monday, April 12, 2021. The pandemic situation did not limit both BINUS UNIVERSITY and PT Impack Pratama Industri Tbk. to collaborate in creating innovative and beneficial products for the community. PT Impack Pratama Industri Tbk is a manufacturer of premium quality polycarbonate sheets and aluminum composite panels in Indonesia. 
The ceremony was attended by Dr. Diah Wihardini as Director of BINUS GLOBAL, Bapak Sugiarto Romeli and Ibu Lindawati as Directors of PT Impack Pratama Industri Tbk., as well as Ibu Lenggana Linggawati as Head of Corporate Secretary & Legal of PT Impack Pratama Industri Tbk. 
In this ceremony, a memorandum of understanding (MoU) was signed. Both parties agreed on research collaboration, employability and internship, knowledge sharing, and other industrial collaboration. Dr. Diah Wihardini, through her opening remarks, mentioned that the collaboration agreement was to realize BINUS' vision as a "A World-class university, fostering and empowering the society in building and serving the nation." 
"In the next 25 years, BINUS UNIVERSITY will strive to prioritize all activities for the community development and to contribute more to social welfare," Wihardini explained. 
In the collaboration proposal, BINUS UNIVERSITY focused on "Catur Dharma", an activity that includes teaching, research, community development, and self-development. 
Next, both parties were introduced, followed by the virtual signing by both parties. BINUS UNIVERSITY and PT. Impack Pratama Industri Tbk. agreed to collaborate on future development of Solar Dryer Dorm (SDD) prototypes using Solar Fotovoltaik technology, as well as battery and software coding/ data science to optimize and lower the energy, and other activities based on the agreement. 
All school and faculties in BINUS UNIVERSITY are open for collaboration opportunities with the company since each faculty member have their own specialties. The collaboration will take form of internship, research, as well as knowledge sharing. The collaboration agreement will support BINUS UNIVERSITY's (2+1)+1 Program to encourage BINUSIANs in enriching both technical and non-technical skills to compete in the workforce. 
"It is a good start for both the industry and academic institutions to collaborate and contribute to a better community, whose impact hopefully may benefit larger society," said Bapak Sugiarto Romeli as the Director of PT. Impack Pratama Industri Tbk. as he hoped for the best in the future.