BINUS UNIVERSITY participates in VEF Global Fair 2021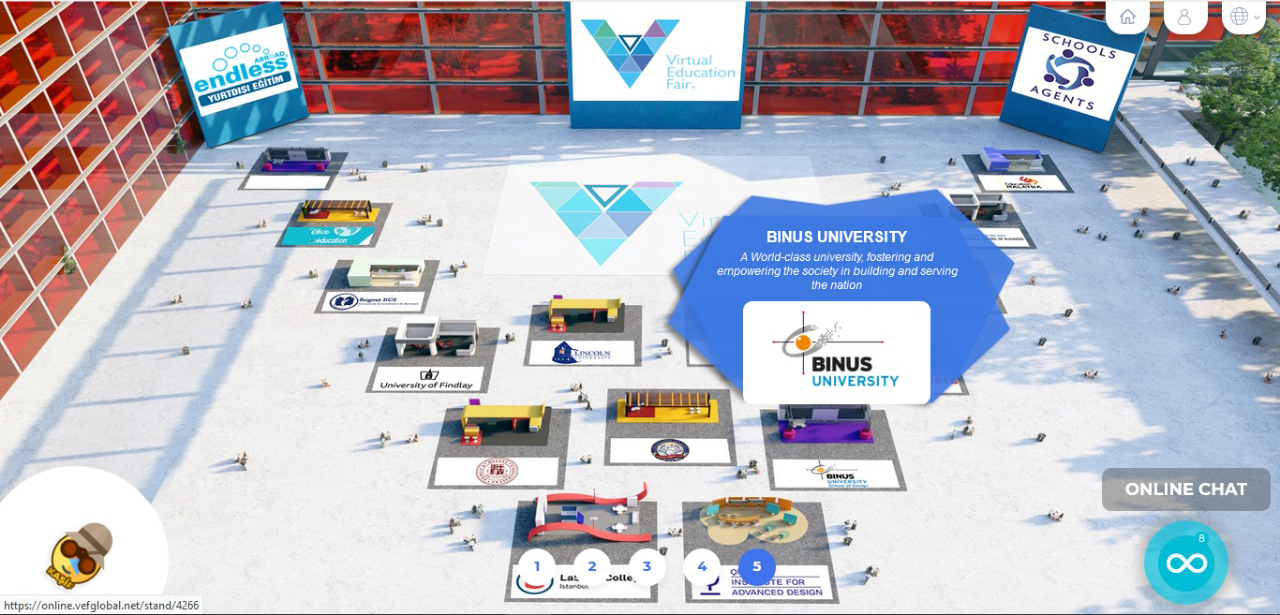 As the pandemic continues, recruiters are embracing virtual tours and recruitment fairs to continue reaching prospective students. Digital fairs could be one of the most innovative ways to recruit students in a "new normal" situation. BINUS UNIVERSITY did not miss the chance to take part in such fair. BINUS UNIVERSITY joined the VEF Global Online Study Abroad Fair, which was held virtually from April 16-17, 2021, through their website. 
The fair hosted more than 50 institutions across the world and welcomed over 10,000 prospective students in Europe and Middle Eastern countries, including Turkey, Azerbaijan, Romania, Saudi Arabia, Armenia, Morocco, and many more. 
Prior to the event, participants who registered for the event were able to book an appointment to have a one-on-one session with BINUS UNIVERSITY's representatives. On the day of the event, registered participants were invited to visit and explore more about BINUS UNIVERSITY and study in Indonesia through the virtual booth. Visitors were welcomed to watch videos, view, and download digital brochures and fliers. BINUS UNIVERSITY's representatives were available online to chat or answer visitors' inquiries. 
BINUS UNIVERSITY was also invited to hold a virtual seminar session during the fair. The seminar, titled "Networking Abroad 101: How to Build Your Global Career" took place on April 16, 10.00 GMT. The session was presented by Lea Simek, International Communication & Student Recruitment Manager – BINUS UNIVERSITY, Indonesia. In this seminar, she shared tips and tricks on how to build and expand networking for students, the challenges in networking and how to overcome the fears, and how BINUS UNIVERSITY can support students through their networking journey.  
The fair went well as many visitors were curious to learn more about the different programs and study opportunities that BINUS UNIVERSITY offers.