How Speaking French Opens Up the World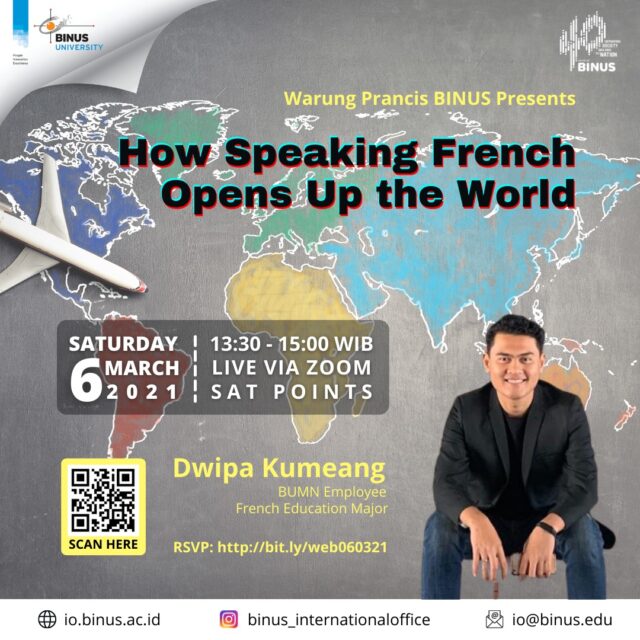 On Saturday, 6th of March 2021, BINUS UNIVERSITY's International Office and Warung Prancis held an online webinar titled "How Speaking French Opens Up the World" with Dwipa Kumeang, a BUMN employee.
The webinar itself was held by Zoom from 13:30 to 15:00 and was attended by BINUS UNIVERSITY students.
Dwipa Kumeang studied in French education major and is fluent in French himself. He has taught French in the embassy in his free time and is an ex-employee of BINUS UNIVERSITY in the BINUS Global department, focusing on international communication and international student recruitment.
The event had a great reception overall and the attendees were highly interactive and interested in the topic, many of the students are interested in the French language as well as its culture, and many more.
A few of the students mentioned that they are interested in studying in France, whether to continue their education in master's or study there as part of the student exchange program for a semester or more.
Dwipa Kumeang started the webinar with a thank you for inviting him for the event's speaker and talked about his experience and journey so far in the French language. He then continued to talk about when his passion and interest in the French language began and what made him want to pursue a degree in French. After, he talked about his job experience and how having the ability to speak and understand French helped him with his job progression.
Overall, the event ended with many students asking him for tips and tricks on getting started in learning the language and how they can get started in French.