BINUS Education Virtual Expo (BEVE) 2021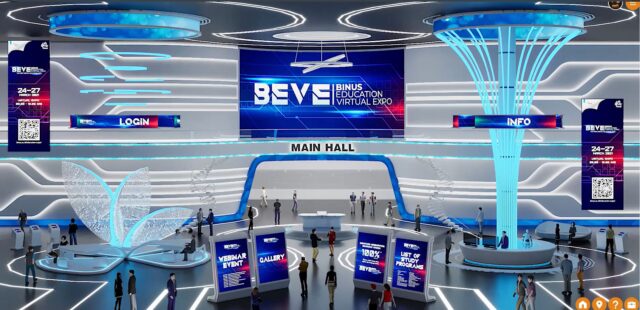 The New Normal situation caused by the pandemic that has hit Indonesia for almost a year has had a profound impact on all sectors, one of which is education. As an institution that continues to consistently contribute to Indonesia, BINUS University continues to strive in realizing its vision, namely "Fostering and Empowering The Society Building The Nation", one of its real forms, BINUS UNIVERSITY held the first event that was held, namely BINUS Education Virtual Expo 2021.
With this online activity, for the first time, BINUS Education Virtual Expo 2021 aims to introduce and bring together education stakeholders in building the education ecosystem in Indonesia. The BINUS Education Virtual Expo 2021 will be held from 24 to 27 March 2021, with technology designed independently and in collaboration with Institutions/Schools/Universities, Industry and Government.
BINUS Education Virtual Expo 2021 carries the Virtual Booth concept from all programs/departments (S1, S2, S3 programs) & Non-Degree Programs in Partners with Schools, Industry and Government. Various activities that will be held include Interactive Booth, Showcase, and various talk shows with themes around: Entrepreneur, Food and Beverage, Inspirational Talk and also interestingly there will be entertainment shows that are also held online.
Through the holding of the BINUS Education Virtual Expo 2021, it is hoped that this activity can provide new experiences by utilizing the latest technology. With this activity, BINUS is here to give a new colour that gives a positive impression, as well as a forum that continues to support the needs of HR and can be useful in expanding connections, getting information about BINUS, so that it can develop the potential of all stakeholders to reach the future. brilliant.