Students of Universities Across Indonesia Join NUNI's "Merdeka Belajar" Program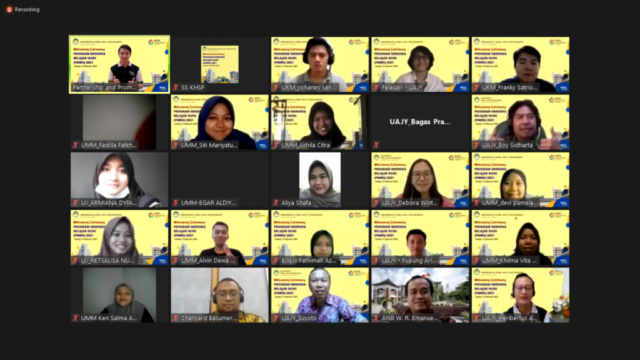 A total of 24 inbound students from five different universities, namely Padjajaran University, Muhammadiyah Malang University, Indonesian Islamic University, Maranatha Christian University, and Sultan Agung Islamic University participated in the 2021 Nationwide University Network in Indonesia (PMBN) Merdeka Learning Program.
On this occasion, Atma Jaya Yogyakarta University (UAJY) as one of the host universities held a welcoming ceremony via video conference for PMBN 2021 inbound students, Tuesday (09/02/2021). This event aims to welcome and provide technical direction for teaching and learning activities at UAJY.
The event was opened with remarks from the Vice-Chancellor I UAJY, Sushardjanti Felasari, S.T., M.Sc. CAED, Ph.D. In his remarks, Vice-Rector I warmly welcomed the arrival of students of the 2021 NUNI Freedom of Learning Program.
"Semoga mahasiswa bisa mendapatkan pengalaman dan atmosfer baru, harapannya juga program ini bisa menjadi bekal untuk menghadapi problem pada masa mendatang," ujar Sushardjanti.
Sambutan juga diberikan oleh Diah Wihardini, Ph.D, Direktur BINUS Global, selaku perwakilan dari Sekretariat NUNI.
Fadilla Fatkhul Jannah, S.T., mewakili PT Mitra memberikan sambutan kepada seluruh mahasiswa.
"Saya berpesan kepada seluruh mahasiswa agar selalu do your best! Semua demi Indonesia yang satu, kesuksesan program ini berasal dari kemauan mahasiswa yang mau untuk bersatu dan berbaur dengan seluruh masyarakat," ujar Fadilla.
Selain itu, Aliya Shafa, Mahasiswi Universitas Padjajaran mengatakan, "Saya ingin mendapatkan pengalaman baru, budaya baru, ikatan persaudaraan, dan rasa toleransi, harapannya mahasiswa hingga dosen dapat bekerja sama dengan baik selama satu semester ke depan."
Selama mengikuti PMBN 2021, mahasiswa juga mendapat fasilitas untuk menunjang perkuliahan di UAJY.
"Mahasiswa akan dibantu dengan beberapa fasilitas seperti Situs Kuliah, SIATMA untuk melihat nilai hasil studi, SIKMA, fasilitas internet, Office 365, hingga lisensi software," jelas Paulus Mudjihartono, S.T., M.T., Ph.D, Kepala Kantor Sistem Informasi UAJY.