A4U Scholarships for PhD Students
The call for applications is now CLOSED. Please check back in December 2022 if the new call is open, join the BINUS IO—Special Programs Channel on Telegram, or follow our Instagram binus_internationaloffice to stay updated.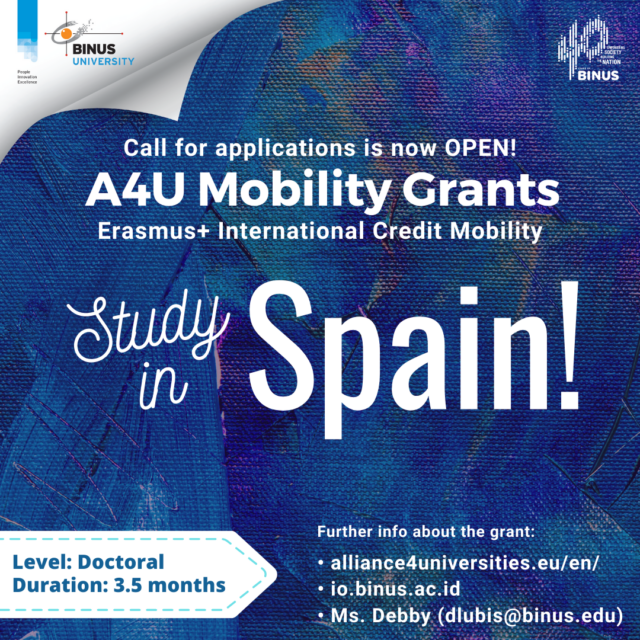 Note: In the current circumstances of the global COVID-19 pandemic, mobility continues taking place only as and when health and travel restrictions in Indonesia and Spain allow for it.
BINUS University proudly participates in the Erasmus+ International Credit Mobility program which offers a funded mobility for PhD Students from Indonesia to Spain.
Alliance of 4 Universities (A4U) is a strategic partnership of four Spanish public universities: Universitat Autònoma de Barcelona (UAB), Universidad Autónoma de Madrid (UAM), Universidad Carlos III de Madrid (UC3M), and Universitat Pompeu Fabra (UPF) in Barcelona. One of the objectives of the A4U internationalization strategy is to promote mobility with leading universities in countries with emerging economies such as Russia, South Africa, Indonesia, Iran, and Vietnam.
A4U has been awarded funds under the Erasmus+ International Credit Mobility Programme – KA107, which enables students from A4U universities and its partner universities in the above-mentioned countries to undertake mobility stay. The main purposes of this call are:
To offer training, research and study development opportunities to PhD students at participating universities;
To support PhD students achieve sustained improvements in knowledge, teaching and research skills;
To forge and deepen lasting links between A4U universities and its partner universities thus enhancing transnational academic cooperation;
To improve participants' language and cultural skills, promoting mutual enrichment and understanding.
Duration:  3-3.5 months (mobility must be completed before 31 July 2023)
Coverage:  Subsistence EUR 850/month and travel allowance EUR 1,500
Deadline:   12 March 2021 (CLOSED)
Result announcement: 30 April 2021
REQUIREMENTS:
Highly motivated and assertive
Registered as an active student at BINUS University
Has at least completed one semester of studies at BINUS doctoral program
Strong English, supported by any English proficiency certificate**
Good personality & maturity
** Recommended certificates: TOEFL (iBT min.79, or PBT min. 550, IELTS min. 6.0). BUEPT is considerable.
REQUIRED DOCUMENTS:
Learning Agreement. Interested students need to have their learning agreement signed by the applicant, the dissertation supervisor at BINUS, and the host academic at the receiving A4U university before submitting the application.
Abridged CV
Recommendation letter (sent by the referee directly to coordinacion@a-4u.eu (subject: Recommendation Letter) by 12 March 2021
FURTHER INFORMATION
Good luck!