Ecotourism and Sustainable Development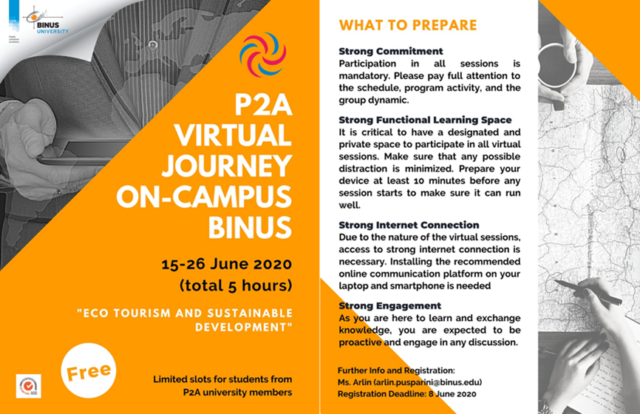 Program Name:        P2A Virtual Journey On-Campus
Dates:                        15-26 June 2020 (total 5 hours)
Program Type:          Immersion
Network/Partner:     P2A (Passage to ASEAN, www.p2a.asia)
BINUS University hosted a virtual P2A Journey (for more information about P2A and P2A journey, please visit www.p2a.asia) from 15 to 26 June 2020. There were 5 sessions in total where 29 students from Indonesia, Malaysia, Myanmar, the Philippines, and Vietnam gathered virtually and worked with BINUS facilitators to discuss some issues related to ecotourism and sustainable development in ASEAN.
Session 1
The students attended an orientation and got to know each other. At the end of the session, the students were divided into five small groups and given an offline assignment. They had to learn an Indonesian children's song with their group members.
Session 2
Each group presented an Indonesian children's song, wearing a cool outfit, and using interesting props. The presentation was then followed by a short presentation about Indonesian culture, history, and language by BINUS International staff.
Session 3
The students attended a webinar with the topic "The Ecotourism and Sustainable Development" delivered by Mr. Wendy P. Tarigan, MBA, the Head of Tourism, BINUS University. Mr. Tarigan was very communicative and knowledgeable. After the presentation, the students threw some questions and discussed some issues related to the topic.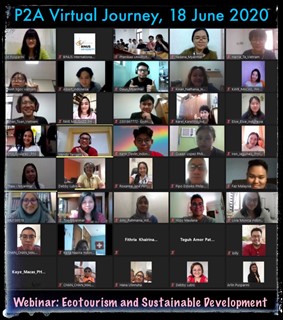 Session 4
The students worked with facilitators to get some insights on how young people can support and promote ecotourism and sustainable development in ASEAN.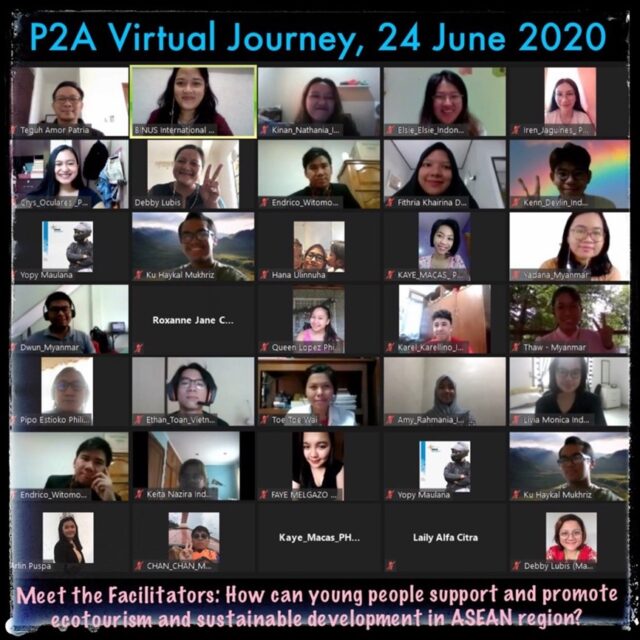 Session 5
The students once again divided into small groups and discussed how the program helped them to see themselves as ASEAN nationals with one vision and one identity. After that, all participants had a virtual farewell party.
BINUS International Office maintained all the sessions light and fun where the participating students feel comfortable to talk and share ideas. Most of the students (85.2%) expected to have more time to get to know each other and for discussion. The keynote speaker and facilitators were praised for their broad knowledge and fun personality. The short program was a big success with a list of compliments given by the participating students.
Click to find the offer info of Ecotourism and Sustainable Development program
\dl