Changing the Future with CAKRA, an Automatic Pesticide Drone Made by BINUS Students
Spraying of pesticides must always be done by farmers to produce suitable crops to avoid pests that will eat the results of gardening. Pesticides function as a pest remover in plants or plants. Although this pesticide spray is very helpful in eradicating pests, it also has side effects on farmers. The side effect itself is that many farmers fall ill to death due to pesticides. With this issue, the two BINUS University students made and developed a pesticide-spraying drone.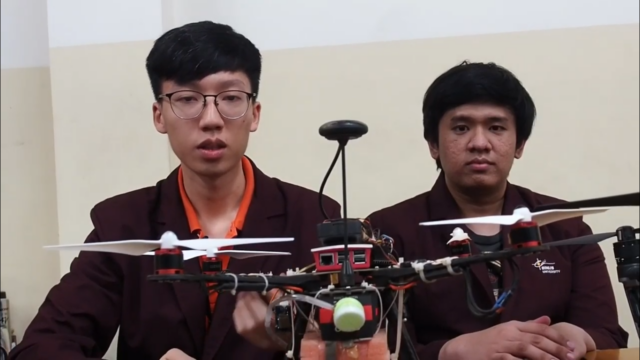 Cakra, a drone that functions as an automatic pesticide sprayer. This tool was made by Muhammad Farhan Fakhrezi and Egbert Michael Ganadhi, students from BINUS University. Both of these carried out the development of Chakra in the framework of their thesis and in the process of completing their prototype. Their basis for making this Cakra is based on their concern for farmers who are affected by the side effects of the pesticides, which causes many of the farmers to die.
This drone operates with a GPS Module that will detect the spraying location accurately. The workings of this drone are to enter the destination location based on the GPS Module that has been implemented in the device. Then, after arriving at the location, the drone will spray the pesticide on farm produce. Before this drone returns, the device will check if there are still points that have not been exposed to the pesticide suction. After everything has been sprayed, this drone will return to its original place.
With Cakra, Farhan and Egbert have the hope that this drone as one of the tools that can make Indonesian agriculture go forward and for this tool is a pioneer for Indonesian agriculture, helping farmers reduce the risk of side effects from pesticides on farmers, and also as a tool that will advance Indonesian agriculture in the future.