BINUS University Partners with Alibaba to Offer "Digital Talent Empowerment Program"
Alibaba Cloud Indonesia has joined other global technology giants in providing training in cloud technology and services to lecturers, entrepreneurs and students to create more information technology (IT) experts in the country.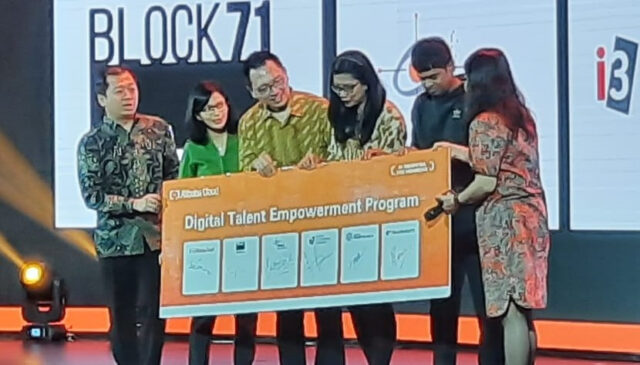 The subsidiary of Chinese tech giant Alibaba Group is partnering with a start-up incubator, two universities, IT providers to offer a training program related to cloud technology and services to help provide the growing demand for tech-savvy workers in the digital economy.
"People are keen to learn. They just probably do not know where they can find the latest and cutting-edge technology. That is where we come in," Alibaba Cloud Indonesia head Leon Chen said at Alibaba Cloud Day Indonesia on Thursday.
The Digital Talent Empowerment Program will provide workshops on cloud services to over 60 lecturers at Bina Nusantara University and Prasetya Mulya Business School. The lecturers are expected to transfer their knowledge to at least 2,000 students at both universities.
Partnering with start-up incubator BLOCK71, information and technology providers Trinocate and Inovasi Informatika, the project will also provide training for 2,000 developers to help them create products and solutions related to cloud services.
Alibaba Cloud Indonesia joins its American counterparts Amazon Web Services (AWS) and Google in providing such training programs. AWS, in collaboration with the government, launched in July a training and certification program offered both online and in a traditional classroom. Google provides similar workshops in the form of three-day, online learning sessions.
Since its Indonesian debut in March 2018, Alibaba Cloud Indonesia has catered to at least 1,000 professionals by building their cloud-services skills in a separate project.
The company's Indonesian branch, operating two data centres, is part of a network of 61 data centres in Asia-Pacific, Middle East, Western Europe and North America.
"More and more businesses in Indonesia are using cloud services to support their growth," Leon said in a statement. "With our technology, skills and experience, we hope we can help grow more talents with the knowledge of cloud services and data intelligence to meet the need for digital transformation among Indonesian businesses."
The country's market for cloud services is estimated to reach US$1.2 billion in value in 2022, rising from $172 million in 2016, according to a report by market research firm Frost & Sullivan.
The country's digital economy sector is expected to grow up to $130 billion by 2025, according to a study by Google, Singaporean investment company Temasek and management consulting firm Bain & Company. In 2019, the sector was estimated to grow by 48% to $40 billion from $27 billion in 2018.
As the tech-heavy sector continues to grow, around 120 million workers in the world's 12 largest economies, including Indonesia, need to take part in reskilling programs in the next three years to avoid being displaced by automation, according to IBM's Institute for Business Value.
A lack of skilled workers in the labour force is a challenge in expanding the digital economy, said Center of Reform on Economics researcher Yusuf Rendy.
As of February, out of 129.3 million workers, 58% or 75 million were junior high school graduates or below, Statistics Indonesia (BPS) data shows.
The country's digital economy in general, therefore, would benefit from training programs such as those provided by Alibaba, AWS and Google, Yusuf said.
"However, these training programs are limited [in scope]," he told The Jakarta Post. "It will be more effective if, for example, those tech companies team up with the government to develop digital talents for small and medium enterprises."