194 Developers Graduated from BINUS University's Apple Developer Academy
Apple Developer Academy, located in BSD City, has graduated 194 students. In the coding training program for 10 months that has entered the second batch, there are 36 mobile applications that have been successfully created.
This coding school is a collaboration between Apple and Bina Nusantara University (Binus). Through this scholarship program, Apple Developer Academy seeks to print more Indonesian human resources (HR) who have world-class application development competencies, so as to encourage the development of the national digital economy. Three abilities that can be obtained from attending this academy are technical, business, and design.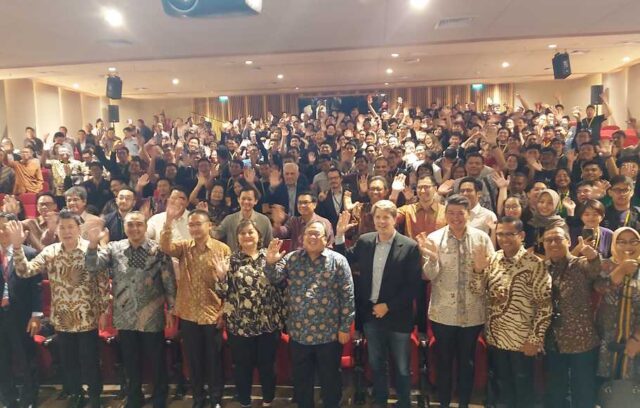 "The second batch of Apple Developer Academy graduated 194 students. They have produced 36 applications that are ready to be utilized by the community," Binus Higher Education President Stephen Wahyudi Santoso said at the Apple Developer Academy graduation day at BSD City, Tangerang, Tuesday (Tuesday) 1/14/2020).
In the Apple graduation event, successful applications were also presented to the Minister of Research, Technology and Head of the National Innovation Research Agency, Bambang Brodjonegoro. Among these applications are Qiroah, Teman Netra, Leastric, Hearo and Canting.
Seeing various applications that have been successfully made by Apple Developer Academy alumni, Bambang Brodjonegoro has great hopes that in the future developers of this program can contribute to the development of digital technology in Indonesia, starting from joining startups that already exist as IT experts or developers. , or build your own startup. Because admitted Bambang, currently Indonesia still lacks digital talent, so there is a startup that is forced to employ experts from abroad.
"If we see, the essence of this program is not only providing training or remembrance of HR capacity in IT and digital but also can give birth to a variety of applications that can be used by Apple and others to answer the needs of the community. Hopefully, these alumni can replace the role of foreign workers and become the pioneers in developing technology research, "said Bambang.
In Indonesia, Apple Developer Academy has been present at BSD City, Surabaya and Batam. Bambang hopes that in the future this academy can be present in more places in Indonesia in order to find more digital talents.
Continuing the success of the previous generation, Apple Developer Academy has also opened registration and recruitment of more than 2,000 applicants from various provinces in Indonesia.
This selection successfully screened 200 prospective students who will receive scholarships in the third batch which will begin in February to December 2020.