MM Executive of BINUS BUSINESS SCHOOL Develops Agile Leaders with the Heart for Sustainable Development
BINUS BUSINESS SCHOOL (BBS) of BINUS University is AACSB accredited and this makes BBS aligned with the leading business schools in the world. BBS applies approaches that ensure its alumni understand global and local issues and can address various challenges of this disruptive innovation era. Sustainable business practices are considered as the business bottom line. The Master of Management (MM) for Executives program, delivered fully in English, gathers senior managers and directors for cross-industry sharing and advanced learning around business strategy development and innovation.
Here are three ways how MM Executive in Strategic Management builds agile leaders with the heart for sustainable development:
Business insight is contemporary, global and local
BBS uses case studies produced by the top Business Schools and BINUS' own Center for Case Studies. So far, BINUS has developed over 230 case studies covering different sectors in Indonesia, ranging from finance and banking to economics and people management. Lecturers have also experienced professionals with PhD degrees. Some are C-level leaders of reputable companies. The students can also understand local issues through channels such as CEO Speaks, CMO Chat and CFO Forum.
The curriculum centres around formulating innovation strategies
By completing the program, the participating students will be able to build their capacity to formulate winning strategies in the digital era. Such courses as Agile & Disruptive Business Strategy, Design Thinking & Business Innovation and Startups & Corporate Entrepreneurship provides an appropriate learning environment and experience to do so. Generally, the students are expected to offer growth-oriented and innovative ideas throughout the program. They can sharpen their lateral and structural thinking, learn how to anticipate change, and launch new ideas relying on the practices from the top business cases in global and local contexts to address business volatility, uncertainty, complexity, and ambiguity.
Sustainable development practices are addressed
BBS is aware that sustainability in business comes with strong integrity and community sensitivity. Corporate Governance & Ethics demonstrates how the success of companies is principally linked to the level of ethical conduct. One faculty member, Dr Sanjukta Choudhury Kaul, inspired by her personal experience, examines the contribution of people with disabilities in the workplace.  Case studies developed by BINUS also touch upon many issues surrounding sustainability. For example, Conwood Indonesia tells the story of Mr Derek Williamson, a BINUS alumnus, who applied a design-thinking approach to shifting the company from manufacturing uncompetitive products to harnessing the company's strength of working with "con-wood" materials.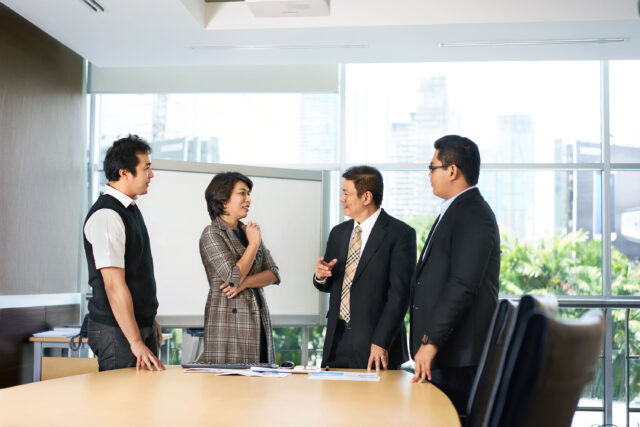 In short, BBS combines high-quality education with a local touch to ensure that graduates develop the capacity for business agility. Compared to other programs in Indonesia, MM Executive runs only for 18 months on Saturdays to accommodate the time-flexibility of working professionals. Corporate rates are available.
For more information visit https://bbs.binus.ac.id/ or contact: global@binus.edu.