BINUS UNIVERSITY Achieves Global Recognition by QS World University Rankings 2020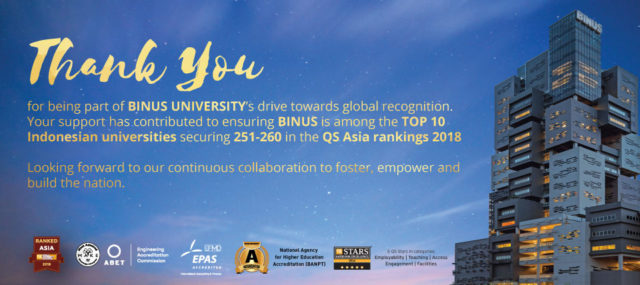 BINUS UNIVERSITY is now officially included in the QS World University Rankings as the 1st and only private university in Indonesia. BINUS UNIVERSITY was previously ranked by QS at #251-260 amongst universities in Asia in 2018, a rise from its #301 position in 2017. Alongside, BINUS currently holds the 4 Stars institutional badge by QS, with 5 Stars in Teaching, Employability, Facilities, Social Responsibility and Inclusiveness. QS uses a methodological framework that analyses six different metrics to effectively capture the university's performance, namely: academic and employer reputations, faculty-student ratio, citations per faculty, and international faculty and students.
As the top private university in Indonesia in the QS World University Rankings 2020 edition, BINUS UNIVERSITY scored particularly well for its academic and employer reputations. The university has also been implementing measures that increase research intensity, reduce classroom size, and attract international lecturers and students. First, the university has established several research interest groups in intelligent systems, performance excellence, education technology and others. Second, full-time international students are now recruited through a dedicated unit under BINUS Global, which provides special merit-and equity-based scholarships for the undergraduate programs. Third, apart from the existing international degree programs, the new "Global Class" program streams with smaller class sizes have also been developed to combine excellence with affordability.
Prof. Dr. Ir. Harjanto Prabowo, M.M., Rector of BINUS UNIVERSITY, believes this recent achievement to result from the university's comprehensive commitment to maintaining the highest standards through measures of international collaborations, audits, and accreditations. In 2018, BINUS engaged in over 1000 international collaboration and 1300 industry collaboration activities for the purposes of mutual support and co-development. The university has also received an array of national and international accreditations such as institutional A accreditation by the National Agency for Higher Education Accreditation, IABEE badge (Indonesian Accreditation Board for Engineering Education) for the Civil and Industrial Engineering programs, and ABET badge (Accreditation Board for Engineering and Technology) for the two previous programs and also Computer Engineering.
"Through the university's efforts, young adults are thus provided with an education system that fully supports their creative minds. It prepares them to lead and advance major academic and industry breakthroughs in Indonesia and beyond," affirms the Rector. "We thank our partners around the world in assisting us along this important journey."