The Uniqueness of Local Wisdom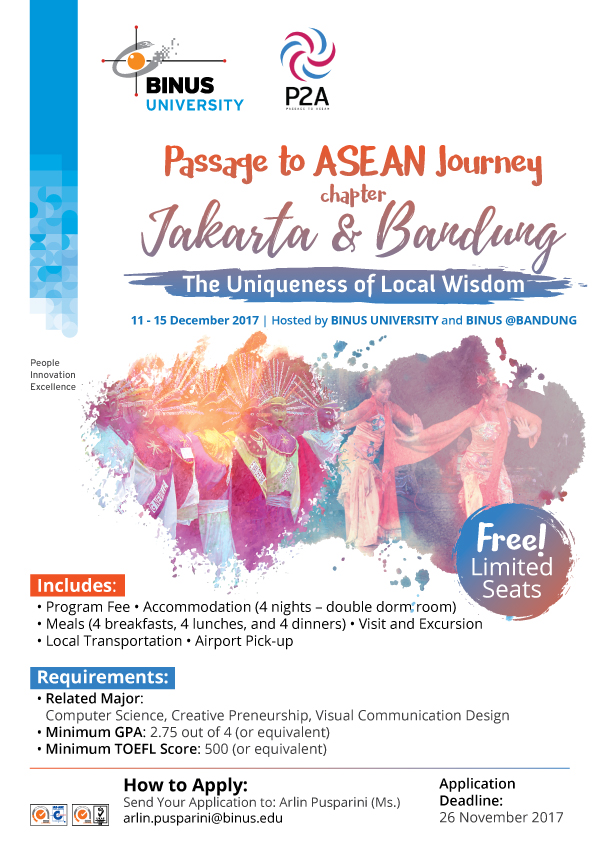 This program targeting students who are seeking opportunity to showcase their skill in technology.
The five days program will bring the participants to see and feel the atmosphere of Jakarta and Bandung as the biggest metropolitan cities in Indonesia. They will be exposed with how customs, inherited beliefs, and religions form values and norms that affect how people interact with their surroundings.
Upon completion, students are expected to be able to showcase their understanding towards the topic given through short video presentation.
The classes cover the main areas of:
Computer Science
Discovering Wonderful Indonesia: Bhinneka Tunggal Ika
Introduction to Bahasa Indonesia
Lectures (including theories, case study, independent study)
Group project (including discussion and final presentation)
The Program includes:
Visit to company/institution/organization
Cultural trip
| | |
| --- | --- |
| Important Dates | Activities |
| 11 December 2017 | Arrival in Jakarta, then Bandung, Indonesia |
| 12 – 14 December 2017 | Refer to Itinerary |
| 15 December 2017 | Depart to Home Country |
The applicants are expected to fulfil the following requirements to be able to join the program:
Related Major: Computer Science, Creative Preneurship, Visual Communication Design
Minimum GPA: 2.75 out of 4 (or equivalent)
Minimum TOEFL Score: 500 (or equivalent)
Applicants who wish to participate in the Short Program must apply by November 26, 2017. The selected participants will be notified within one week after the registration deadline.
This program is free (for limited seats), including:
Program Fee
Accommodation (4 nights – double dorm room)
Meals (4 breakfasts, 4 lunches, and 4 dinners)
Visit and excursion
Local Transportation
Airport pick-up
REGISTRATION AND INFORMATION
BINUS INTERNATIONAL OFFICE – JAKARTA
BINUS UNIVERSITY
Anggrek Campus, R. 331 (3rd floor)
Jl. Kebon Jeruk Raya No. 27, Kebon Jeruk, Jakarta Barat 11530, Indonesia
CP: Arlin Pusparini (Ms.)
T. +62-21 534 5830 ext. 1323 | F. +62-21 530 0244
E. arlin.pusparini@binus.edu