ASEAN Foundation – Launch of the ASEAN Data Science Explorers competition!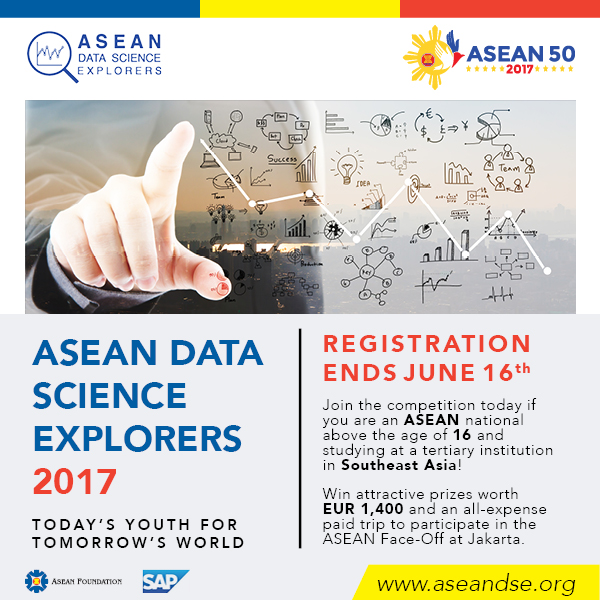 The first ASEAN Data Science Explorers competition, organized by the ASEAN Foundation and SAP, aims to enhance awareness and appreciation of an ASEAN Community among young people through digital literacy intervention. This analytics competition will be run at a national and regional level with the use of the SAP BusinessObjects Cloud software.
This competition is meant for all students regardless of their level of IT knowledge. Contestants do not need to have any programming knowledge to join. The analytics software is user-friendly and easy to learn. As long as they have an analytical mind and enjoy presenting their ideas backed with facts, students will do well in this competition. All teams must register by 16-June and submit their entries by 11-September. Shortlisting process will take place in the middle of October before culminating in National Finals during November 2017 and the ASEAN Face-Off at the end of November 2017.
10 teams in each ASEAN member state will be shortlisted to present their proposals at their country's National Finals. Attractive cash prizes await the top 3 teams!
Team Prizes for National Finals

The National Champion from each country will receive an all-expense paid trip to Jakarta where they vie for top prizes in our ASEAN Face-Off in end November 2017.
Team Prizes for ASEAN Face-Off

LEARN ABOUT THE SAP BUSINESSOBJECTS CLOUD SOLUTION
We look forward to your participation!