BINUS UNIVERSITY Accepts Paper Submissions for ICOBIRD 2017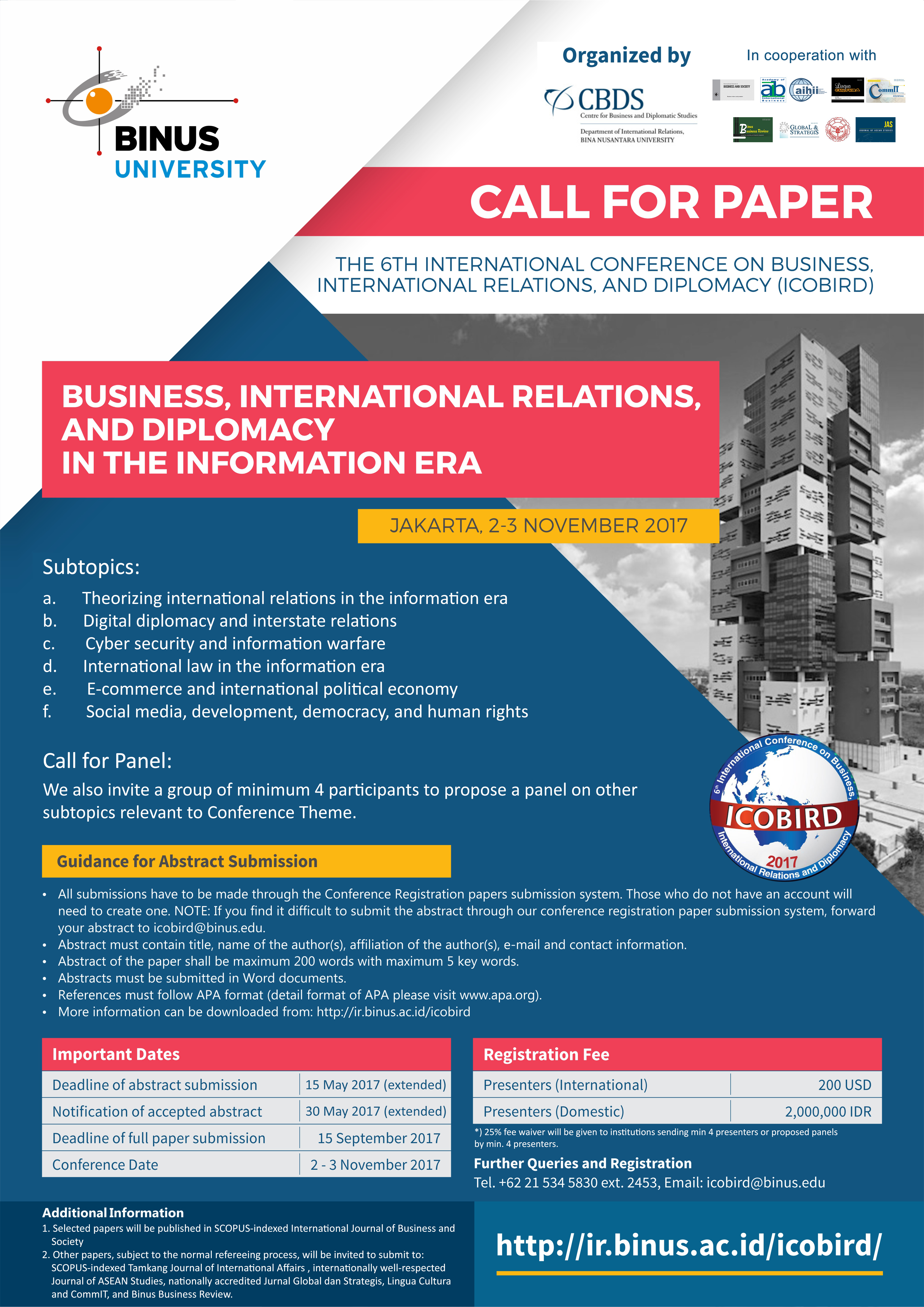 BINUS UNIVERSITY is accepting abstract submissions for the upcoming 6th International Conference on Business, International Relations, and Diplomacy (ICOBIRD) event that is set to take place in Jakarta from 2nd – 3rd November 2017. In utilising the theme of "Business, International Relations, and Diplomacy in the Information Era", the latest edition of the event seeks to highlight the role of information technology in shaping the field of international relations as well as in strengthening globalisation. The event will gather leading academic, business leaders, and industry experts so as to provide accurate insights on the ever-changing façade of international relations. As such, the upcoming ICOBIRD event will cover a wide-range of relevant topics which poses an immense impact to the future welfare of states and welfare.
In understanding the increasing interconnectedness between actors of politics, society, and business, BINUS UNIVERSITY is looking to cover five main topics during ICOBIRD including Cyber Security and Information Warfare, Digital Diplomacy and Interstate Relations, E-Commerce and International Politics Economy among others. In calling for abstract submissions, BINUS UNIVERSITY is hoping to encourage participants in finding solutions to concrete issues in order to contribute to national and international development. Selected winners will have their research published in the International Journal of Business and Society; the deadline for abstract submission is on 15th May 2017 followed with a notification of accepted abstracts on 30th May 2017. As a higher education institution in Indonesia that is well-regarded for its efforts in contributing to real world issues, BINUS UNIVERSITY's ICOBIRD event reflect the university's unwavering success in bringing about real change for the betterment of society.