Global Perspective in Business Law from Prof. Dr. Stefan Koos of the Military University Munich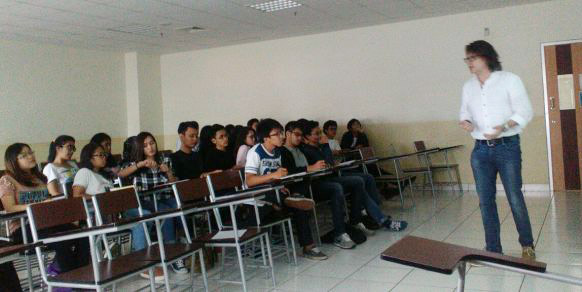 From March to April 2016, BINUS UNIVERSITY welcomed Prof. Dr. Stefan Koos of the Military University Munich, Germany. Known as an expert in a wide range of law-related areas (competition law, consumer protection law, Syariah law) in line with Business Law Department of BINUS UNIVERSITY, Prof. Koos is also invited as a visiting professor at other universities such as in Cilacap and Pekanbaru. Representing Professorship for Private Law of the Military University Munich, Prof. Koos engaged in many activities at the Business Law Department.
He delivered guest lectures, discussions, and other student development programs. Students engaged in the legal opinion writing contest with Prof. Dr. Koos as one of the jurors. Though his valuable experience with a global perspective, Prof. Koos discussed about corporate responsibility, law in capital market as well as the development of labor law and cyber law in Indonesia. Students and our lecturers were able to further enjoy guest lectures covering legal research method, business competition law, and alternative dispute resolution.
Prof. Dr. Koos shared his experience and good impressions working with BINUS UNIVERSITY staff, lecturers and students in this short video.
It is expected that Prof. Koos will pay another visit to BINUS UNIVERSITY from July to November 2016 as he takes part in a conference as well as guest lectures, workshop and curriculum review.