Hello ASEAN: Explore Malaysia, Thailand & Vietnam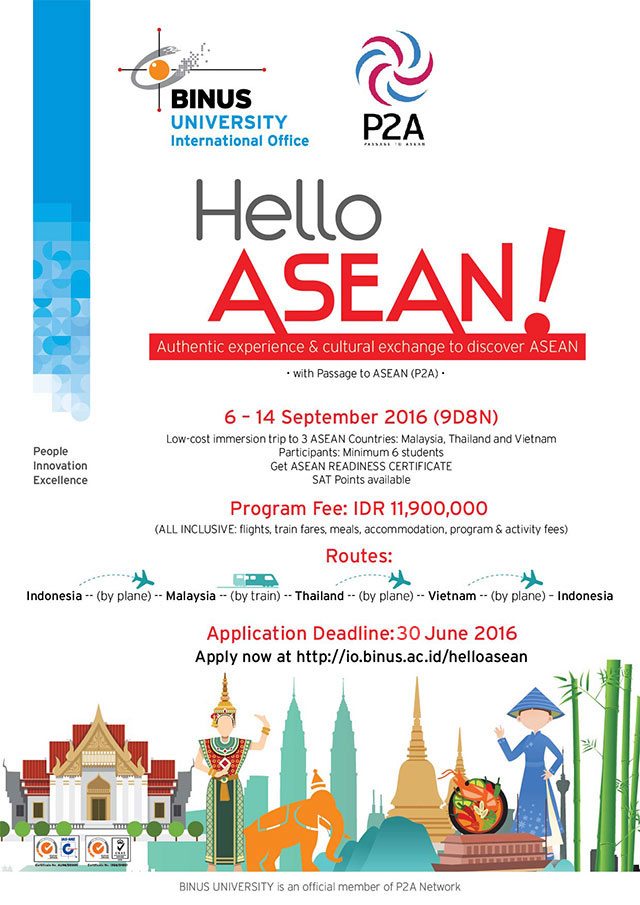 Please learn all the information about this exciting program by downloading the P2A Journey Information here.
Open to ALL BINUS students
Highly motivated and assertive
Good personality & maturity
Application Deadline:
Extended until 30 June 2016
To apply for this program, please simply follow these steps:
Step 1: Registration
Fill out the Application Form
Submit the Application Form along with the supporting documents required to International Office Room 331, Anggrek Campus or via email to vpanna@binus.edu no later than the deadline announced. Please make sure that you have completed the entire fields on the application form otherwise we could not process it.
Should you need further information, feel free to contact us via email to vpanna@binus.edu or visit us within consultation hours (Monday – Friday, 1 – 5 PM).
Step 2: Payment

Make the payment upon confirmation of registration. Payment information will follow later.
Step 3: Departure Preparation

Attend the pre-departure briefing (schedule will be informed later).
INTERNATIONAL OFFICE
R. 331 (Level 3), Anggrek Campus
Jl. Kebon Jeruk Raya, No. 27, Jakarta Barat 11530, Indonesia
T. +62-21 534 5830 #1323, 1324 | F. +62-21 530 1668
E. io@binus.edu
W. www.io.binus.ac.id
Facebook: /binus.io | Twitter: /binus_io