Xiangsihu College of Guangxi University for Nationalities Visiting BINUS UNIVERSITY and Signing Student Exchange Agreement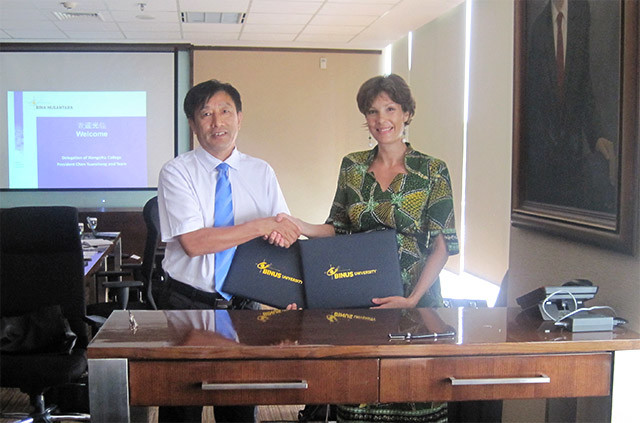 On the morning of August 26, 2015, BINUS UNIVERSITY welcomed delegation from Xiangsihu College of Guangxi University for Nationalities led by Prof. Chen Yuanzhong, President of the Xiangsihu College. The China delegation were warmly received by Ms. Karen Imam, Director of BINUS Global and Dr. Johannes Rumeser, Dean of Faculty of Humanities along with a host of BINUS staff members.
During the visit, both sides exchanged profiles on respective institutions as well as international exchange and shared a strong desire for collaboration.
Later on, the two universities signed a strategic cooperative agreement, which marked a good foundation for start of long-term collaboration of both institutions, represented by Ms. Karen and Prof. Chen Yuanzhong. According to the agreement, BINUS and Xiangsihu College will develop continuing partnership to jointly promote faculty and student mobility activities, particularly opportunity of study in Indonesia, among other possibilities of collaborations.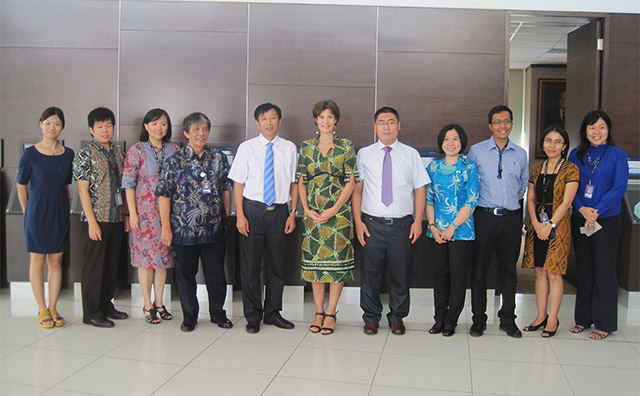 Founded in 2002 and and located in Nanning City, Xiangsihu College of Guangxi University for Nationalities fully utilizes Guangxi University for Nationalities' excellence in ASEAN Languages major. The college also makes use of the long-established channel of communication between Guangxi University for Nationalities and ASEAN higher education institutions to foster the human resources needed in ASEAN free trade and the development of Guangxi Beibu Gulf Economic Zone.
The college offers a wide variety of studies, such as management, international trade, IT, foreign languages, humanities, and arts. With its complete and advanced facilities, supported by outstanding and passionate faculty, it strives to constantly enhance the education quality, familiarize students in an international environment and increase the alumni's competitiveness and employability.