BINUS UNIVERSITY Hosts Guest Lecture by Cambodian Ambassador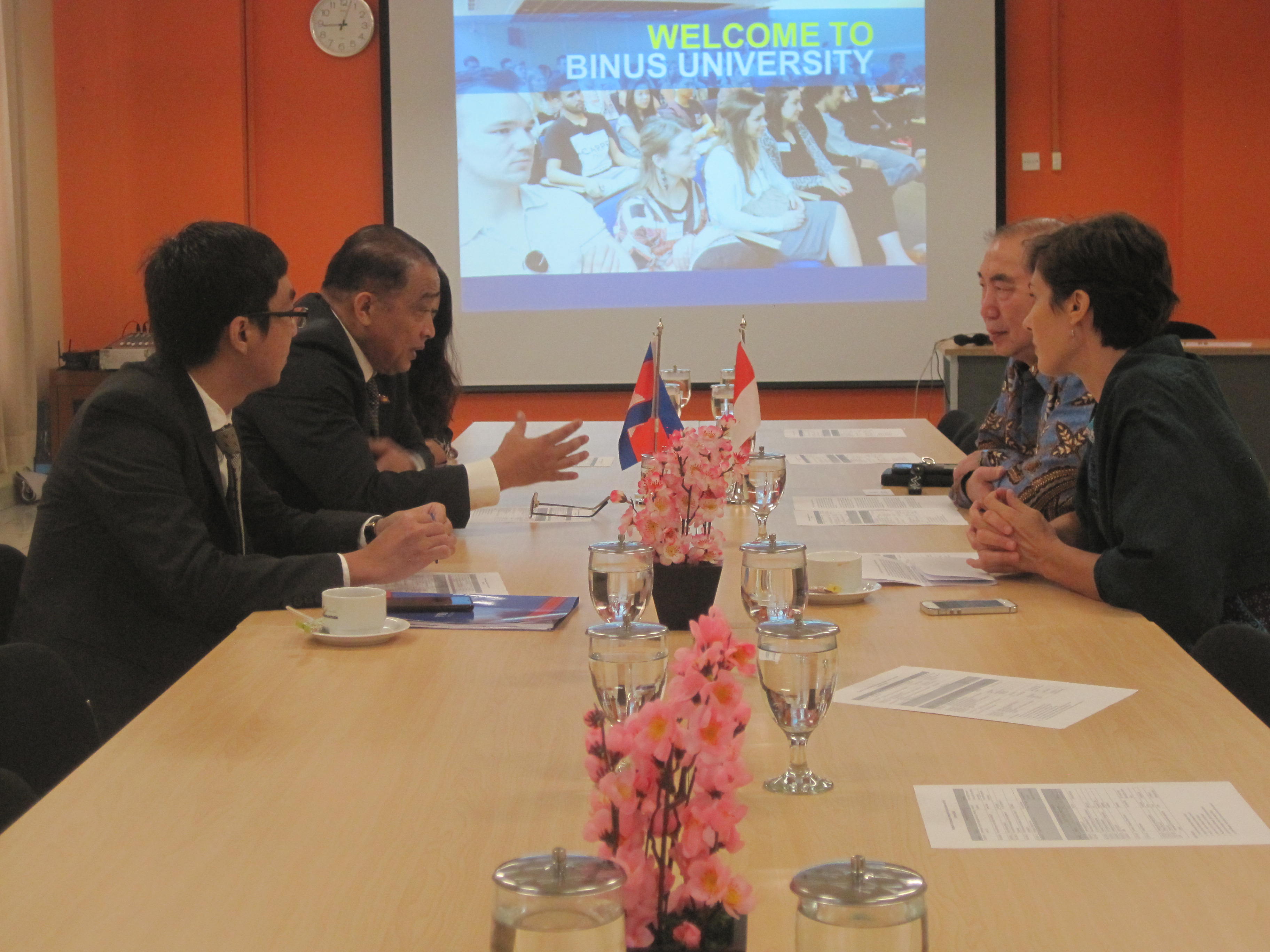 On 14th March 2018, BINUS UNIVERSITY hosted a guest lecture by the Ambassador of the Kingdom of Cambodia to the Republic of Indonesia, H.E. Mr Hor Nam Bora, at its Anggrek Campus in Jakarta. The lecture was themed 'Cambodia Education System: Prospect and Retrospect', which aimed to educate visitors on the country's past and present educational landscape. BINUS UNIVERSITY is already cooperating with a number of universities in Cambodia through the EU-SHARE programme which includes; the Royal University of Phnom Penh, National University of Management, Phnom Penh International University and The University of Cambodia, as well as through the Passage to ASEAN (P2A) network of universities initiative, from which the university partners with Svay Rieng University, Mean Chey University, and the Asian Institute of Cambodia.
Present at the event was Mr Bernard Gunawan as CEO of the BINUS Foundation, Mr Stephen Wahyudi Santoso as the Managing Director of BINUS UNIVERSITY, and Ms Karen Imam as the Director of BINUS Global. The Ambassador illustrated to attendees how Cambodia's education system was initiated by Buddhist monks in the 13th century, where it was only offered to the male population; they were taught important life skills such as carpentry, craftwork, and music. This traditional education was gradually changed upon the arrival of the French who introduced a more western model until its reformation in 1996. The Ambassador also highlighted his government's efforts in modernising this vital sector to create a skilled labour force and thereby laying the foundation for economic growth and greater foreign direct investment.
As Indonesia and Cambodia are set to increase bilateral ties through their partnership in ASEAN, BINUS UNIVERSITY can thus become a bridge between academic and corporate entities of the two countries. This will encourage the advancement of important aspects of economic development such as student mobility programmes, research, and entrepreneurship; resulting in a more unified and prosperous region.