BINUS UNIVERSITY Hosts Greater Nusantara Event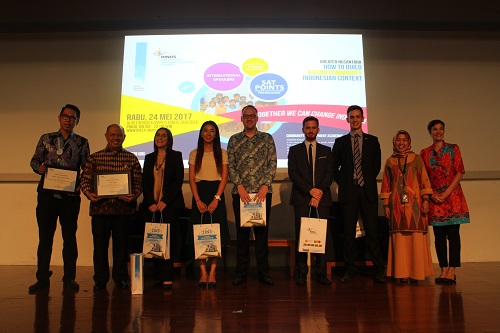 On 24th May 2017, BINUS UNIVERSITY hosted the "Greater Nusantara" event which provided insights to participants regarding community development initiatives through the field of education, information technology, and the science of business. The event was also held to support the United Nations' Sustainable Development Goals programme which seeks to find solutions to end poverty, achieve environmental sustainability, and establish a prosperous society among other efforts.
As such, BINUS UNIVERSITY invited representatives from a range of embassies in Jakarta to the event in addition to teachers, the university's higher education partners and students, in addition to industry players. Among the attendees of the event included CEO of Bina Nusantara Group, Mr Ir. Bernard Gunawan, Director of BINUS Global, Ms Karen Imam; Deputy Assistant of Production and Marketing of Indonesia's Ministry of Small and Medium Enterprises, Mr Ir. Ady Yushan; and Vice Rector of Student Affairs and Community Development at BINUS UNIVERSITY, Mr Johan among many others.
Having amassed years of experience in community development through the implementation of wide-ranging corporate social responsibilities across Indonesia, BINUS UNIVERSITY thus has an upper-hand in offering solutions as well as sharing ideas in order to create a society that is financially stable and capable. By honing in on its strengths, BINUS UNIVERSITY hence focused on the key areas of education, information technology, and business; this measure is meant to ensure equal access to education, promote entrepreneurship and business opportunities.
The event featured a classroom session on the aforementioned topics through which BINUS UNIVERSITY sought the assistance of several keynote speakers from various organisations such as DanCham, Institut Français d'Indonésie, Instituno Italiano di Cultura Jakarta, and the US Embassy. The goals of the classroom programmes are also in keeping with the university's dedication to upholding the 'University Four Dharma' principles which seek to advance the development of local communities throughout the archipelago. By hosting its latest event, BINUS UNIVERSITY hopes to have motivated students and industry leaders to play an active role in Indonesia's national development.