BINUS UNIVERSITY Hosts Programme on Child Protection Laws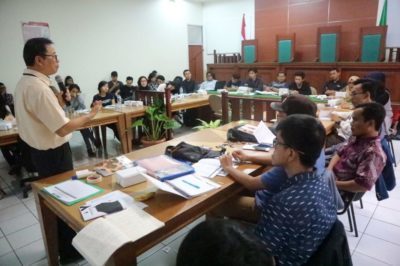 From 5th – 8th December 2016, BINUS UNIVERSITY hosted a training programme regarding sexual exploitations of children alongside its partner, End Child Prostitution, Child Pornography & Trafficking of Children for Sexual Purposes Indonesia (ECPAT Indonesia) at the Kijang campus in Jakarta. The event aimed to raise greater awareness about legal assistance that is made available to child victims and their families. BINUS UNIVERSITY additionally provided extensive information on the signs of child sexual exploitation victims in order to enhance public participation as a means of curbing the ongoing national issue. Prominent attendees of the event included senior-level lecturers from BINUS UNIVERSITY's law programme, Prof. Dr. Bernard Arief Sidharta, S.H and Dr. Ahmad Sofian, S.H, M.A. in addition to representatives from the Indonesian National Police as well as Jakarta's Lembaga Bantuan Hukum Asosiasi Perempuan Indonesia untuk Keadilan.
As part of the training programme, participants were introduced to a number of topics ranging from comparative law study, gender perspectives on child abuse, and children's rights under the Indonesian Constitution among other issues. Moreover, BINUS UNIVERSITY and ECPAT Indonesia provided in-depth insights on the increase in national child abuse cases per year; in 2015, there were 122 reported cases of child abuse reported to The Indonesian Child Protection Commission. BINUS UNIVERSITY and ECPAT Indonesia also strived to highlight the need for change in the justice system given that current regulations are viewed as unbeneficial to child abuse victims. Through its most recent event, BINUS UNIVERSITY hopes to improve public knowledge on national child protection laws so as to reduce the number of young victims in Indonesia going forward. As a longstanding higher education institution in Indonesia, BINUS UNIVERSITY continues to spearhead efforts in community empowerment as a means to push for continued developments in Indonesia.