INDOPED–Sharing Knowledge on Student Centered Teaching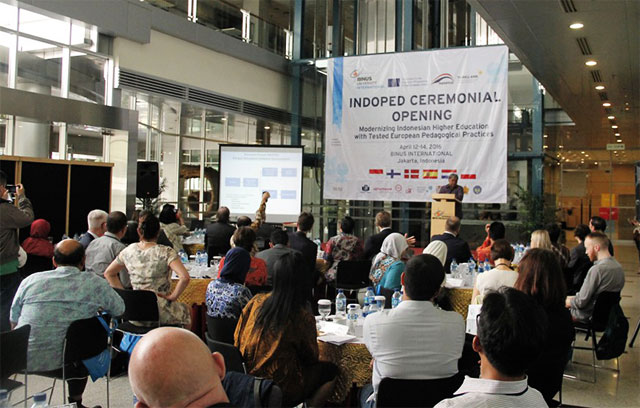 On 12th April 2016, BINUS INTERNATIONAL hosted the INDOPED ceremonial opening at the Joseph Wibowo Center in partnership with the European Union in its latest measure to expand the capacity of lecturers engaged in Indonesia's higher education sector. The INDOPED project is a three-year programutilized as platform for academic professionals to share a number of innovative teaching approaches.
With the focus on developing student's entrepreneurial and innovation skills, BINUS UNIVERSITY is adopting several student centered teaching practices. One of these is INNOPEDA curriculum developed by the Finish Turku University of Applied Sciences. The curriculum, to be integrated into all BINUS INTERNATIONAL majors, is centered upon the hatchery courses where students develop ideas into innovative solutions and startup. Project Hatchery, Business Hatchery and Research Hatchery build on one another to nurture design thinking, customer orientation and lean approaches through inter-disciplinary perspective.