The 19th IR Lecture Series with Medecins Sans Frontieres: Ebola Crisis and How Global Actors Responded
Since the Ebola outbreak in West Africa was officially declared in Guinea last March, it has claimed more than 10,000 lives in the region. The outbreak is the largest ever, and is currently affecting three countries in West Africa: Guinea, Liberia and Sierra Leone. The discussion about Ebola rarely takes place in Indonesia, especially in the study of international relations which triggers the Department of International Relations BINUS UNIVERSITY to hold its regular Lecture Series about Ebola last Monday, 11 May 2015 at the Joseph Wibowo Center Campus, Senayan. The lecture delivered topic on "Ebola Crisis and How Global Actors Responded" and invited Dr. Maria Guevara, Regional Humanitarian Representative (ASEAN) from Medecines Sans Frontieres (Doctors Without Borders).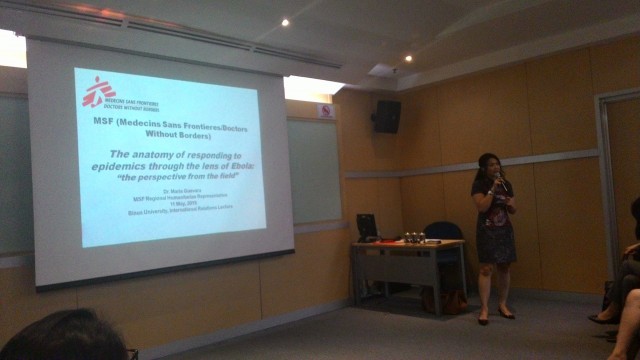 Dr. Guevara shared her experience while working as MSF volunteer and dealing with Ebola patients at Democratic Republic of the Congo. She revealed that it was a totally different situation when handling the Ebola patients. An MSF health worker needs to wear protective clothing that helps to isolate the contact between the body and the air. Dr. Guevara also expressed her concern on the lack of attention from international community regarding the risk of Ebola outbreaks and the way to prevent transmission of the highly infectious virus that can kill up to 90 percent of the people who catch it.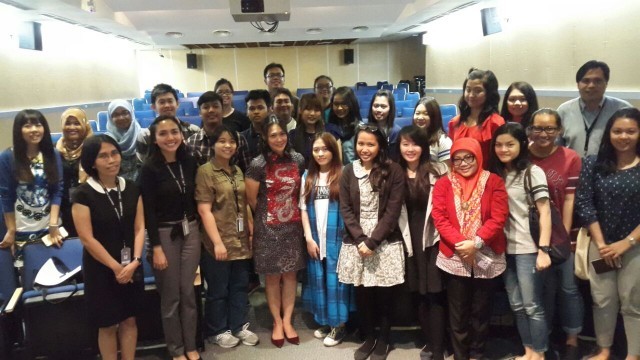 Medecins Sans Frontieres is an international, independent, medical humanitarian organisation that delivers emergency aid to people affected by armed conflict, epidemics, natural disasters and exclusion from healthcare. It offers assistance to people based on their needs and has treated hundreds of people with the disease as well as helped to handle numerous life-threatening epidemics, irrespective of race, religion, gender or political affiliation.