BINUS UNIVERSITY and Kwangwoon University Join Hands to Collaborate in Academic Development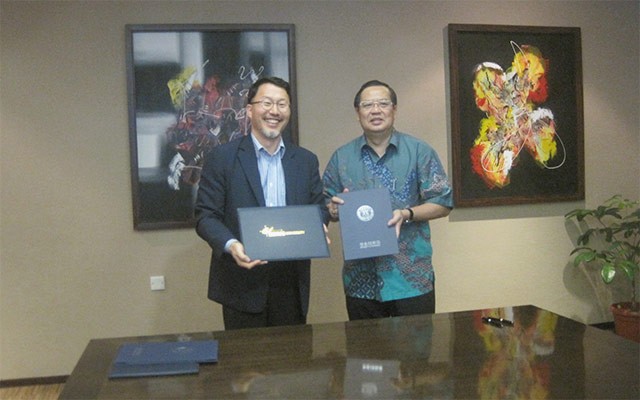 BINUS UNIVERSITY is delighted to announce its partnership with Kwangwoon University, South Korea. Prof. Harjanto Prabowo, Rector of BINUS UNIVERSITY, signed the memorandum of understanding witnessed by Prof. Kim Nam Young, Dean of College of Electronics Engineering & Information Engineering, Kwangwoon University during a signing ceremony at Anggrek Campus, Thursday, April 23, 2015.
The agreement will provide a framework for closer collaboration in areas such as exchange of faculty members and joint research projects, among many other possibilities of collaborations. It is expected that the signing of this agreement will further strengthen and promote the connections and collaborations of BINUS UNIVERSITY with the Kwangwoon University.
Kwangwoon University is a private research university located in Seoul, South Korea. The University has been recognized for its academic reputation in engineering and IT fields with its Engineering program ranked 56th in QS Asia Subject Ranking 2014. Kwangwoon University has also shown its power in research with the number of publications in international journals (SCI papers) and domestic papers per professors ranked 2nd among universities in Korea for three consecutive years (2010-2012). With this collaboration, BINUS hopes to further boost its academic and research prowess in its endeavor to become the World Class Knowledge Institution.