Every international students who are staying at BINUS are advised to use the Limited Stay Permit (Ijin Tinggal Terbatas) Visa for Study Purpose (index code: C316) in order to support their stay permit in Indonesia during the whole study programs.
In order to support the students' visa application, BINUS shall send all necessaries documents bundled in BINUS-LOA Package which will be sent personally to the students' email. The LOA package shall contains:
Letter of Acceptance, Visa Sponsor & Guarantee Letter;
Study Permit Letter, the clearance approval from the Indonesian Ministry of Research, Technology & Higher Education;
TELEX*, the Authorization Letter from Indonesian government for you to apply the student visa.
*Please notice, the TELEX document is officially charged per issuance per person (borne by the students, upon arrival), and shall be sent to the students' chosen Indonesian embassy/consulate.
As for visa application:
The students may go to their chosen Indonesian embassy/consulate as written on your TELEX and bring the TELEX and Letter of Acceptance, Visa Sponsor & Guarantee Letter along with other doc required which sometimes vary by the embassy/consulate, to start the visa application;
Should the students have double citizenship, they must use the passport which they submitted to us upon application earlier (also written on their TELEX). Their passport ID has been recorded by the Indonesian authorities for visa purpose;
The students should make an appointment and process their visa right away to their chosen Indonesian embassy/consulate;
Our Indonesian embassies/consulates' address and its detail information on https://www.kemlu.go.id/en/kedutaan/default.aspx; then choose the location on the drop down menu.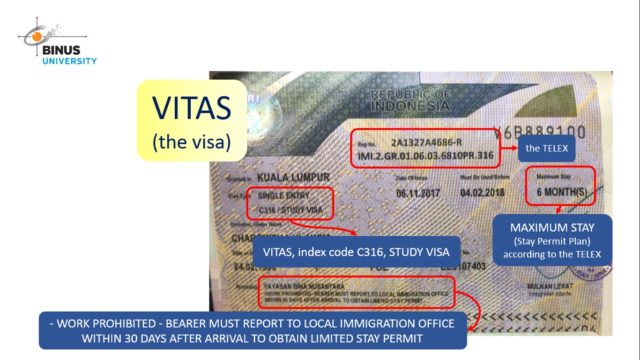 Sample of the Limited Stay Permit Visa (Visa Ijin Tinggal Terbatas/VITAS) for Study Purpose, issued by the Indonesian Embassy
IMPORTANT NOTES:
Remember this type of visa is WORK PROHIBITED, and the students MUST PRESENT THEIR SELVES to the local governed immigration office to necessarily biometric records, such as finger-prints, and to obtain & confirm their stay permit and secure their Limited Stay Permit e-Card (Kartu Ijin Tinggal Terbatas/KITAS).
Further information for visa purpose : http://bit.ly/34qnLcz-Visa-ITAS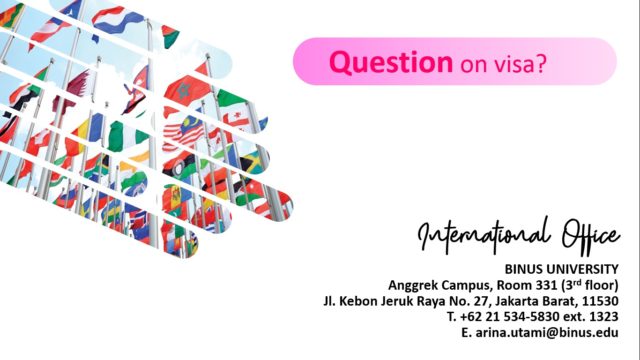 Last updated :