Feel the REAL working environment in well-acclaimed institutions, with mentoring or supervision from our faculty member and transferable credit.
Why INDONESIA? Based on The Economist (March 7, 2013), Indonesia is predicted as the Next Asia Giant. Based on the research by McKinsey Global Institute (2012), by 2030 Indonesia will be the 7th largest economy in World with the 135 million member of consuming class and the need of 113 million skilled workers.
Students will get first-hand exposure to various industries to help pave their way to a successful career. With the provision of academic advices and career tips from mentors, students are assisted in adjusting to the new environment as they build their international network. The iBuddy system is integrated with the program to make sure of interns' social well-being.
Placing over 1,000 local students every semester for internship, BINUS CAREER provides links to a wide range of partners from NGOs, Start-Ups and MNCs, to ensure placements from any fields.
DURATION & CREDIT EARNINGS
| | |
| --- | --- |
| Duration | Credit |
| 3 – 5 weeks | 2 credits |
| 6 – 8 weeks | 4 credits |
| 9 – 11 weeks | 6 credits |
| ≥ 12 weeks | 8 credits |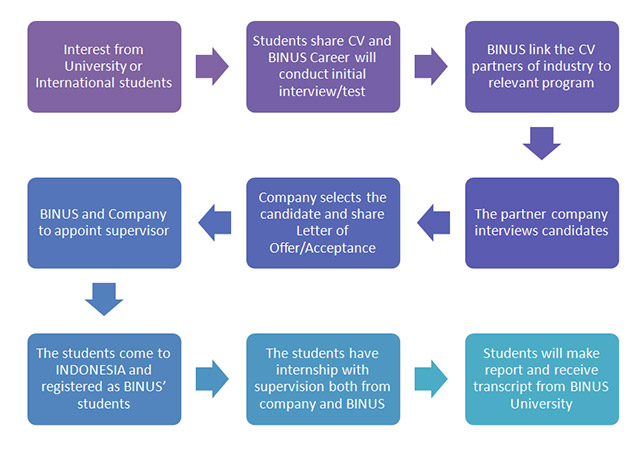 Our past interns came from Malaysia (Universiti Teknologi MARA), The Netherlands (Rotterdam Business School), France (ISTC), and USA (Emporia State University).
"This was a great experience to gain an insight into a local Indonesian designer. Business is greatly altered in different countries and it is a monumental opportunity to learn from the owners. I am very appreciative for the opportunity and the chance to meet my internship supervisor, Yunita.
I am very happy that I approached the International Office in order to complete this experience. Having the opportunity to be a fly on the wall in a unique, Indonesian business, will forever be an invaluable experience."
Shelley Hughes, Queensland University of Technology (Intern, 2016)
"First, I want to say thank you to the Film program for giving me opportunity to do my internship in BINUS. It was a great experience because the experience let me see how BINUS website works out and learn something new from my course which is about films and the production. I met Miss Azalia Primadita, who is an awesome and amazing person. Thank you BINUS for the opportunity! It really helps me out for my future."
Siti Nur Rashiddah Binti Abdul Razak, Universiti Teknologi MARA (Intern, 2015)
Last updated :