SME Business in Indonesia – From Bali to the World!
BINUS UNIVERSITY and UDAYANA UNIVERSITY invite international students from any fields of study or disciplines to a Joint International Short Program "SME Business in Indonesia – From Bali to the World!" in Jakarta and Bali.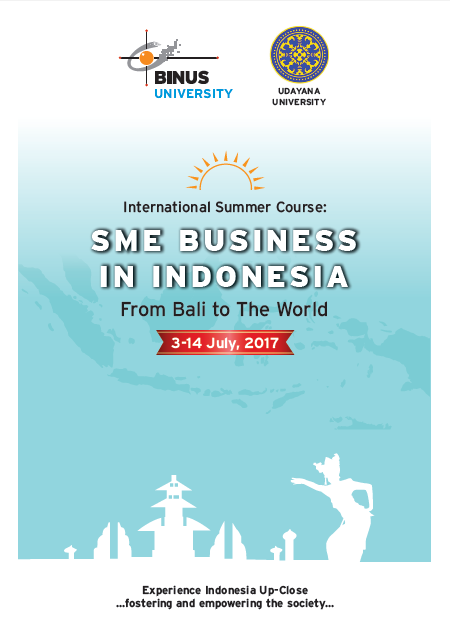 Classes that cover the most important steps of Southeast Asia economic development. Students will be given a full overview of political, cultural, and economic history of ASEAN countries.
Visits to companies and/or institutions
Excursions
The Joint International Short Program is open to minimum 6 participants. The program is conducted in English.
If you are interested in SME business export and want to explore Bali of Indonesia this course is for you.
The two-week program with one week in Jakarta and one week in Bali is organized by BINUS University and Udayana University and comprises of business classes, visits to Bali SMEs, and cultural exploration of Jakarta and Bali sights, sounds and tastes. The course aims to develop an export business plan for SMEs in Bali with 4 course credits earned.
Upon completion, students are expected to understand business culture and opportunities in Indonesia. Specifically, students will work with Bali Tangi (spa products), Bumi Ayu Hotel and Wisnu Karya Putra International (timber products).
The classes cover the main areas of:
Economy in Indonesia
Culture and Ethics
Industrial Sectors
Human Resource System and Labor Relations
Business Law
Start-ups
Lectures (including theories, case study, independent study)
Group project (including final presentation)
Furthermore, the program includes:
Visit to companies/institutions/organizations (Jakarta and Bali)
Cultural trip (Jakarta and Bali)
| Important Dates | Activities |
| --- | --- |
| 2 July 2017 | Arrival in Indonesia |
| 2 – 9 July 2017 | Program and stay at Jakarta |
| 9 – 16 July 2017 | Program and stay at Bali |
| 16 July 2017 | Departure to home country |
In order to be eligible to register for the Joint International Short Program, you must fulfill the requirements given below:
You are an undergraduate student from any fields or disciplines.
You are proficient in English
Passport valid for 6 months
Applicants who wish to participate in the Short Program must apply by May 19, 2017. The selected participants will be notified within one week after the registration deadline.
Payment should be made by May 19, 2017. If minimum number of participants is not achieved, program is canceled and fee will be refunded. Payment details will follow.
Download and complete the application form here
The program fee is USD 1,100 (partner) or USD 1,300 (non-partner) that includes:
Lectures and course materials
Accommodation at BINUS SQUARE in Jakarta and a three star hotel in Bali
Partial meals
Airport transfers
Flight (one way Jakarta to Bali)
​Local transportation
Excursion in Jakarta, tour and cultural trip in Bali
Visit to companies
4 transferable course credits (equivalent to 6 ECTS)
REGISTRATION AND INFORMATION
International Office
BINUS UNIVERSITY
Anggrek Campus, R. 331 (3rd floor)
Jl. Kebon Jeruk Raya No. 27, Kebon Jeruk, Jakarta Barat 11530, Indonesia
CP: Ms. Arlin Pusparini
T. +62-21 534 5830 ext. 1323 | F. +62-21 530 0244
E. arlin.pusparini@binus.edu
Last updated :