DISCOVER THE EXPERIENCE with BINUS
As one of the largest and most successful private universities in Indonesia, BINUS is hosting 128 students from countries across the globe for this Spring Semester 2018, and would be delighted to welcome you Fall 2018 and future semesters. For us, it's all about making the students experience worthwhile!
DISCOVER YOUR PATH
Through Student Exchange Program Agreement
If you are a student of one the BINUS' partner institution, please contact your home university coordinator(s), please ask them to nominate you no longer than the deadline mentioned in order to start the application process.
To check whether your home university is partner of BINUS, please click here.
Through ISEP Network
If you are a student of one the ISEP Members, check with your ISEP and find your program:

ISEP Exchange, swap spots with a student from BINUS student.
ISEP Direct, just meet our application requirement and placement is guaranteed.
Customize your needs with affordable fees and let the experience begins.
    REQUIREMENT
Registered as an active student at home university
Has at least completed 1 year study period at home university
Age min 18 years old
GPA min 2.75 out of 4.00 (70% out of 100%)
Has the ability to provide English proficiency proof:

TOEFL min 550 (paper based), 213 (computer based), 79 (internet based);
TOEIC 605 (only for student whose first language is not English);
IELTS 6.00;
Other English proficiency score/proof is also accepted such as a statement letter from home university confirming student is enrolled in a program taught fully in English.
APPLICATION PACKAGE for FALL 2019
Please download the Application Package in the following link: http://bit.ly/2019_Fall_BINUS

DISCOVER YOUR CAMPUS

BINUS has several campuses across the Java Island, and at this moment only these campuses which are delivered in English.
Undergraduate, KEMANGGISAN Campuses – BINUS UNIVERSITY (located within 15 minutes from student dorm – free shuttle available)
Undergraduate, ALAM SUTERA Campus – BINUS UNIVERSITY (located around 1 hour from student dorm – free shuttle available from Kemanggisan Campus)
Undergraduate, SENAYAN Campuses – known as BINUS UNIVERSITY International (located around 45 min to 1 hour from student dorm – free shuttle available)
Graduate, SENAYAN Campus – known as BINUS Business School: MM Professional Business Management. The graduate classes run in the evening Mon – Friday (6.30 PM – 09.30 PM) (located around 45 min to 1 hour from student dorm – free shuttle available)
On the above link contain course list of four sheets of different campuses; students must choose only ONE campus based on the most matched course selection.
DISCOVER YOUR HOUSING
BINUS Square – Hall of Residence. Please find the Info Sheet and Application Form in the above mentioned link.
Please refer to BINUS Square website for details: http://binus.ac.id/binussquare/
DISCOVER THE BEAUTY OF INDONESIAN LANGUAGE
BIPA 101: this is a fee paying non-credit course. Lesson is on practical daily life Indonesian. Program consists of 12 lessons (each 90 minutes).
Indonesian Language Course: this is a credit course. More details will be shared once course is finalized and it will be included in the updated course list.
DISCOVER THE INTERNSHIP OPPORTUNITY
Feel the REAL professional environment in well-acclaimed institutions, with mentoring or supervision from our faculty member and transferable credit.
We offer Internship for international students with the possibility of free tuition upon nomination as an exchange student.
DISCOVER WHAT TO DO
Submit all the application documents and materials needed below through the International Office of home university or your ISEP Coordinator.
#1 Student Exchange/Study Abroad Application Form (completed, signed)
#2 Proposed Study Abroad Courses
#3 Letter of Recommendation (signed)
#4 Financial Statement (signed)
#5 Non Political Involvement and Non-Working Statement (signed)
#6 Visa Options Agreement (signed)
#7 Applicant's Declaration (signed)
#8 Statement Letter of Enrollment from Home University
#9 A Copy of Academic Transcript
#10 A Copy of English Proficiency Test
#11 A Health Statement from a Doctor in English
#12 A Color Copy of Passport in A4 paper
#13 A color passport photos pasted on application form
#14 BINUS Square (Dormitory) Application Form (signed)
APPLICATION DEADLINE
Last submission for FALL 2019: 15th May 2019
Our annual deadline:
Spring Semester: 15th October
Fall Semester: 15th May
* If the dates mentioned fall on Saturday or Sunday, then deadline will be on the day after (Monday)
Softcopy application and required documents have to be submitted via email to arina.utami@binus.edu.
Both softcopy and hardcopy of application and required documents have to be submitted and mailed to the following address:
Arina Utami
BINUS UNIVERSITY/BINUS Global
Anggrek Campus, International Office Lt.3 R.330/331
Jl. Kebon Jeruk Raya No.27 Kebon Jeruk,
Jakarta Barat 11530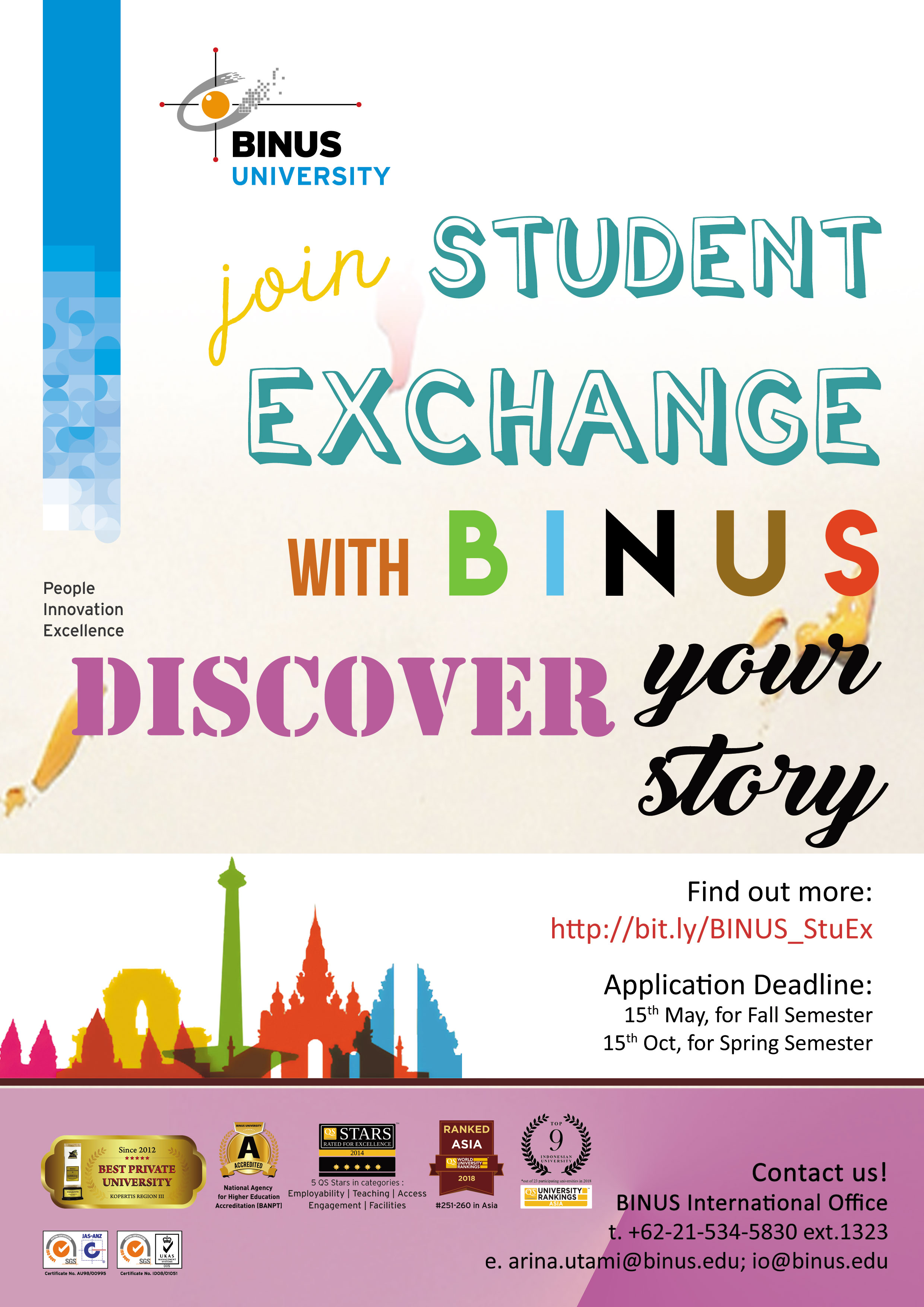 Last updated :