Global Week "Diversity in a Globalized World: Indonesia-Mexico Indonesia-Mexico Proposal for Inclusion and Equity in the Pandemic Era Dates"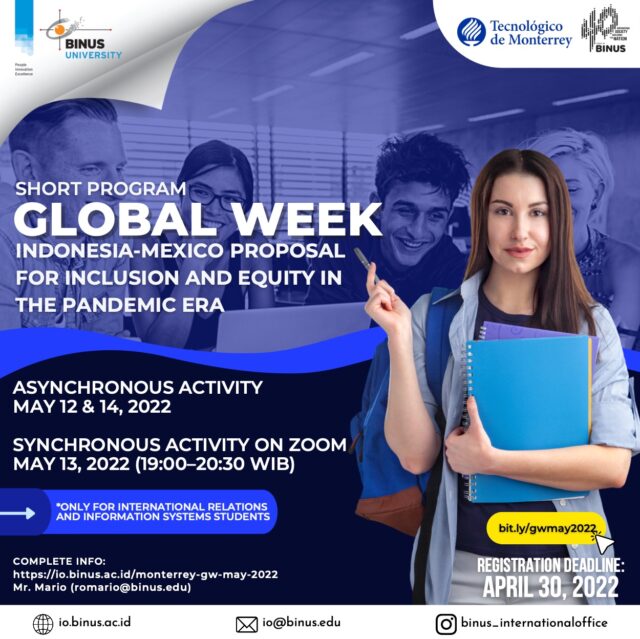 BINUS University, in collaboration with Tecnológico de Monterrey, Mexico, is inviting BINUS students to participate in the Global Week virtual program from May 12 to 14, 2022. During the program, BINUS students will work closely and intensively with Mexican students.
THEME
Diversity in a Globalized World: Indonesia-Mexico Proposal for Inclusion and Equity in the Pandemic Era
PROGRAM FEE
Free (seats only available for 60 selected BINUS students majoring in International Relations or Information Systems)
BENEFIT
International experience
SAT points
PROGRAM DATES
May 12–14, 2022
PROGRAM SCHEDULE
DAY
TIME
ACTIVITY
DESCRIPTION
Thursday, May 12
Asynchronous
Introduction
Student Preparation

Read the following articles/videos regarding one case of human rights and mobility in the pandemic era (

https://www.youtube.com/watch?v=ks2q1M9jbzY,

https://www.youtube.com/watch?v=d360np-37m0, https://news.un.org/en/story/2022/03/1114762)

Icebreaker activity: Let's get to know each other. Answer in padlet, by teams, the following questions. 

In order to get to know you better, please share a little bit about yourselves.

 

Name (how do you want to be called?) and major (what do you study)

Where are you from/where do you live.

What are your hobbies? What do you love to do?

What is your favorite food and music?

What is your favorite city or which city would you like to know?

What is your dream job?

Do you believe migration has an impact in your daily life? If so, why?

How can we contact you? Share your email and/or social media (optional).

Please include a picture of yourself.

Friday, May 13
07:00–08:30 CDT

19:00–20:30 WIB

Ice-breaker
Zoom Meeting

Listen to the introductory remarks about the concepts of Inclusion and Equity on Public Health delivered by a BINUS University lecturer
Listen to the remarks about Global Challenges and International Cooperation delivered by a Tecnológico de Monterrey lecturer
Afterwards, as a team design an international cooperation proposal hypothetically built by the governments of both Indonesia and Mexico addressed to the World Health Organization in order to promote vaccine equity against COVID-19.

For that purpose, fill the table during the breakout groups session. Note: This is like a brainstorming activity that will take only 40 minutes. Again, it is just a basic proposal that will not include all the components of a complete international cooperation proposal.

In plenary session, teams will share a preview of their proposals (10 minutes).

Friday, May 13 (Mexico)

Saturday, May 14 (Indonesia)

Asynchronous
Collaborative Activity and Final Presentation

After the session, one team member will upload the team's document both on Canvas and on the Padlet link. Group discussion (conclusion about pandemic measures and human rights).

BINUS students add a reflective message about the activity and their experience during the Global Week. The reflective message (written or video) is required to claim the SAT points.
PLATFORM
Zoom Meeting
HOW TO APPLY
Please make sure that you:
Are highly motivated, assertive, and open-minded;
Are registered as an active student at BINUS University majors in International Relations or Information Systems;
Has a good command of English;
Are committed to joining all sessions and actively participating in all activities.
Please register yourself to https://bit.ly/gwmay2022 by Saturday, April 30, 2022.
Further info and enquiries:
Mr. Mario (romario@binus.edu)
Join the BINUS IO—Special Programs Channel on Telegram, or follow our Instagram binus_internationaloffice to stay updated.\dl
Last updated :