iBuddy program is created to support our International Students at BINUS to adapt with BINUS, Jakarta and Indonesia.
Why is it important?
Remember your first time at BINUS? Many of you were lost and had to settle on your own. For many international students, being in Indonesia might be their first time experience living abroad. They have to leave their family, friends and everything familiar to them behind. In Indonesia, they will need to make new friends, gain a lot of new information, learn how to get around and even learn a new language. It surely can be a daunting and overwhelming experience. But you can help them create an easier and smoother stay simply by volunteering to become a Buddy. You can provide a friendly face and a helping hand to make a world of difference for our international students.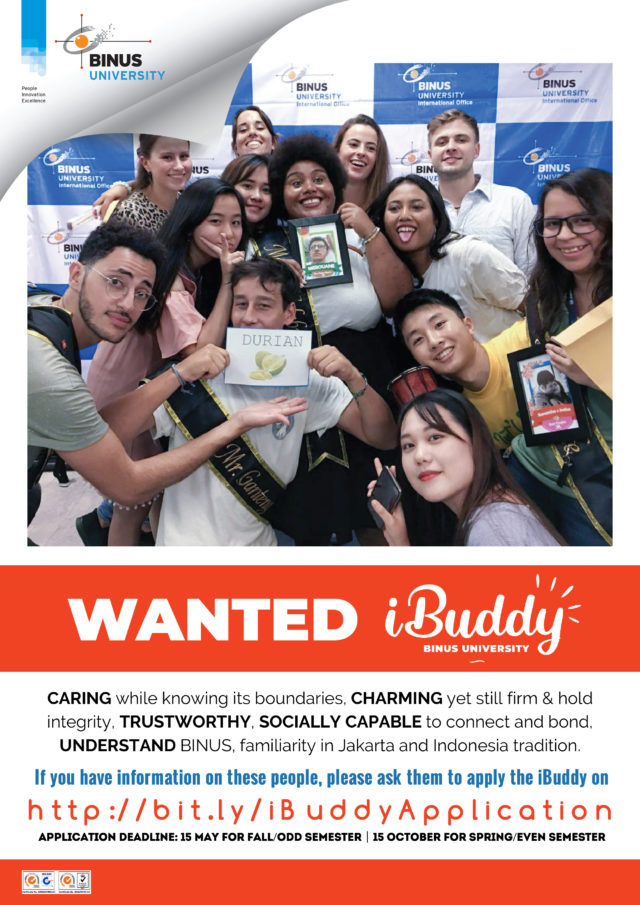 Active BINUS Student
Personable
Empathetic
Service-oriented
Knowledge of Campus and Jakarta
Speaks decent English. Able to speak another foreign language is a plus
BINUS Square boarders and IO STARS are preferred but others are also welcome to apply
Having a new international friend
Exposure to a new culture, which is important in this more increasingly global society
Broaden your horizon
Becoming an ambassador of BINUS and Indonesia
Practice your English or another foreign language
And so much more
Getting in touch with your Buddy even before arrival
Welcoming and saying goodbye
Sharing information about Binus, Jakarta and Indonesia
Showing your Buddy around Campus
Giving direction to your Buddy on how to get around
Teaching your Buddy basic and useful Indonesian words/phrases
Taking them to places of interests (when schedule permits)
Regular communication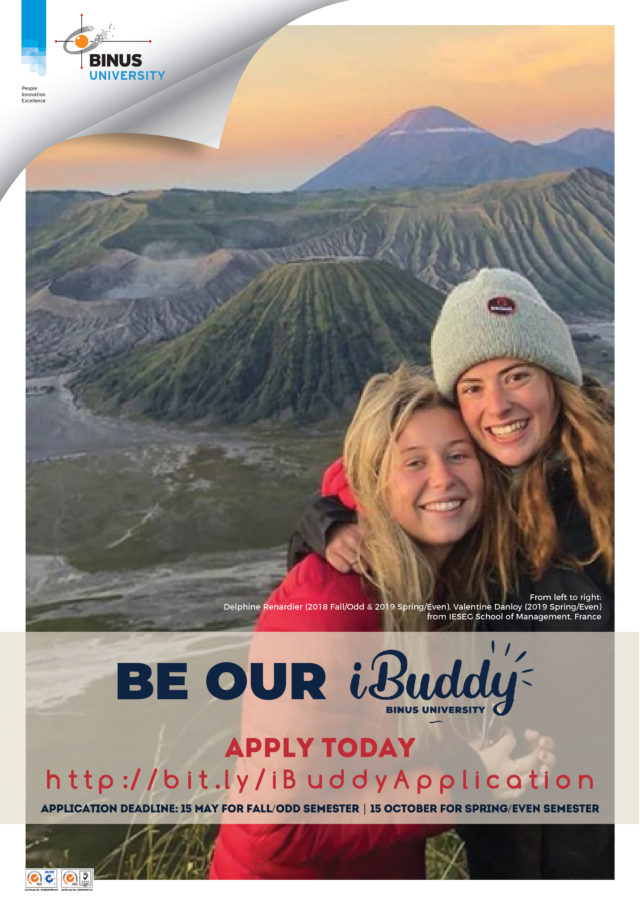 | iBuddy for Semester | Application Deadline |
| --- | --- |
| Odd (Fall) Semester | 15th May |
| Even (Spring) Semester | 15th October |
If the dates mentioned fall on Sunday, then deadline will be on the day after (Monday)
Fill out the iBuddy Application Form
Submit or email the form to International Office no longer than the deadline announced. Please make sure that you have completed the application form otherwise we will not process it
Note: Number of iBuddy can vary. It is based on the number of international students per semester. There is a possibility that one iBuddy will support more than 1 international student at a time but the maximum will be 3 students. You are able to indicate your preference on the application form.
Application Submission
Application Review
Application Clarification: Interview
Result Notification (will be sent through email)
Jeane Rooseline
Computerized Accounting, Class of 2010
Being an iBuddy gives me a chance to become friend with international students from all over the world. I was an iBuddy for two Malaysian students during Odd Semester 2013/2014. During that semester I also became friends with Thai and Korean students to name a few. We had a great time having meals and going on a trip to Bogor.
Being an iBuddy gives me a chance to explore new things, culture, and language. That is why I decided to join the program again. During Even Semester 2013/2014, my buddies are from Holland and Germany. We had a close relationship. They visited my house and met my family. I also managed to learn a little bit of Dutch and German.
"Ik hou van jou, Holland! Ich liebe dich, Germany!"
Because of my positive contribution to the program, I became an iBuddy for Australian students for international internship and study tour program.
Thank you BINUS UNIVERSITY, International Office, and my international friends for giving me a chance to experience international friendship. I enjoy my role as an iBuddy and see this as a life changing experience. This program opens my horizon and makes me proud to be an Indonesian.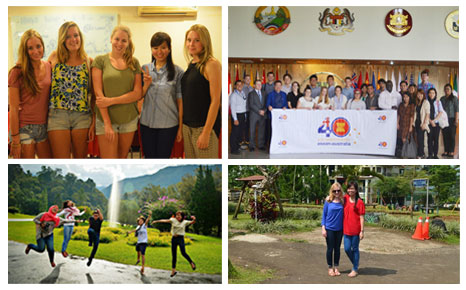 Doni Nathaniel Pranama, Computer Science
iBuddy: Young Kyu Cho, Dong-A University and Na Young Lee, Kyung Hee University (2012-2013)
What if I tell you that actually people from other part of the world have a slightly different point of view about life? Curious enough? I was. However, it's all answered when I decided to join the iBuddy program. It's fun! I swear!
Two iBuddies I had come from South Korea. The first one was Young Kyu Cho (Joe), and the second one is Na Young Lee. Both showed great enthusiasm as exchange students at BINUS. It's precious to have friends like them. The experience I got from joining this program is just irreplaceable. I got a chance to introduce Indonesian culture to them, including our beloved language – Bahasa Indonesia. Yeah, most of the exchange students love to eat "sate ayam", especially the Koreans. No specific reason, they just like it – a lot.
By joining this program, I learned that cultural differences can lead to a different way of thinking about education, career, and future. Furthermore, I learned that teaching Indonesian language for foreigners is not as easy as you might have thought. Think about the prefixes and the suffixes of Indonesian language, and you will understand what I mean.
I believe that some of you might not really understand how I feel, so I recommend you to join this program. Just join! It will not make you super busy, instead it will benefit and give you with tons of knowledge. So, what's stopping you?
Last updated :