Intercultural Design e-Xchange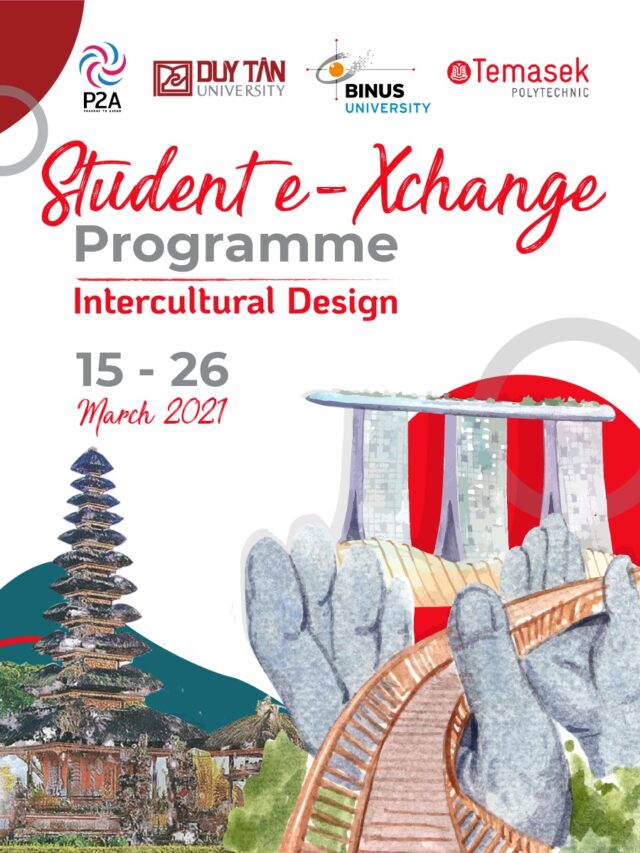 BINUS UNIVERSITY in partnership with P2A (Passage to ASEAN), as well as other Asian universities, held an Intercultural Design e-Xchange as a form of an online short exchange program for students through Zoom from 15 to 26th of March, 2021.
The opening ceremony of the online Student E- exchange programme – Cultural Design was co-hosted by BINUS University (Indonesia), Duy Tan University (Vietnam), and Temasek Polytechnic (Singapore), in partnership with Passage to ASEAN Association took place on March 15, 2021.
Attending the opening ceremony were representatives from three Institutes of Higher Education (IHEs): Dr. Man Nguyen – Director, Institute of International Training, Duy Tan University; Dr. Diah Wihardini – BINUS Global Director; Ms. Esther Chia – Deputy Director Administration & Student Development, School of Design; Michael Isnaeni Djimantoro, S.T., M.T. – Senior Lecturer, Architecture Program, Faculty of Engineering; Mr. Leslie Chan – Lecturer, Centre for TransCultural Studies, Temasek Polytechnic.
Students participated in a Kahoot game, which enabled them to study and understand more about the culture and history of 3 different nations and made the atmosphere of the opening ceremony become swiftly vibrant. English was used as a common language between students and lecturers and this facilitated sharing thoughts, opinions, and understanding about the culture of the country.
What's more, the attractive and inspirational presentation about cultural life, customs and habits was presented by the speaker representatives from various angles.
In addition, the division of small groups assisted students in interacting, discussing, and sharing their individual viewpoints as well as perspectives, which aimed to bolter students' prominent intercultural designs.
The event was deemed as a huge success as the short exchange program was attended by over 50 students from three different countries over the course of two weeks.