Indonesia 101 – P2A Multi-City Journey
BINUS UNIVERSITY with Universitas Islam Indonesia and Informatics and Business Institute Darmajaya invite international students from any fields of study or disciplines to "Indonesia 101 – P2A Multi-City Journey" in Lampung, Jakarta and Yogyakarta.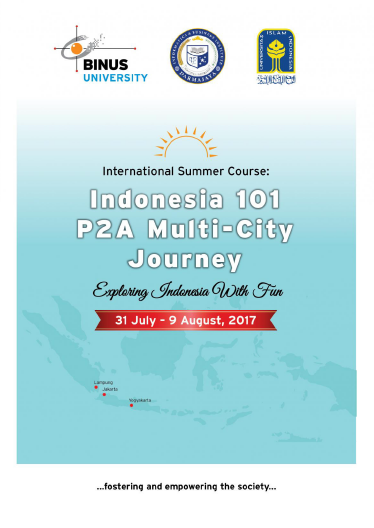 If you are language and culture enthusiast with a special interest in ASEAN, this program is for you.
Supporting the Passage to ASEAN (P2A) mission of brining ASEAN citizens closer together, this program adapts P2A Journey format to familiarize you with Indonesia, country holding the seat of ASEAN.
On this journey you will spend a total 10 days in three political and cultural capitals of Indonesia. You will first explore Lampung region of elephants and banana crackers on Sumatra. In Bandar Lampung you will provide life skills to youth with disabilities to familiarize yourself with challenges of disadvantaged social groups in Indonesia. In Jakarta you will attend language workshops and walk the hallways of ASEAN Secretariat. In Yogyakarta, you will marvel the UNESCO world heritage site Prambanan Temple, nearby volcanos, and traditional marketplaces.
The classes cover the main areas of:
Technopreneurship and Small Medium Enterprises
Community development
Discovering Indonesia
Introduction to Bahasa Indonesia
Yogyakarta Uncovered
Lectures and classes
Final presentation
Furthermore, the program includes:
Field trip (Lampung, Jakarta, and Yogyakarta)
| | |
| --- | --- |
| Important Dates | Activities |
| 31 July 2017 | Arrival in Indonesia |
| 31 July 2017 – 3 August 2017 | Stay at Lampung |
| 3 – 6 August 2017 | Stay at Jakarta |
| 6 – 9 August 2017 | Stay at Yogyakarta |
| 9 August 2017 | Departure to home country |
In order to be eligible to register for the Joint International Short Program, you must fulfill the requirements given below:
You are an undergraduate student from any fields or disciplines.
You are proficient in English
Passport valid for 6 months
Applicants who wish to participate in the Short Program must apply by July 10, 2017. The selected participants will be notified within one week after the registration deadline.
Payment should be made by July 10, 2017. If minimum number of participants is not achieved, program is canceled and fee will be refunded. Payment details will follow.
The program fee is USD 375 (P2A) or USD 450 (Non-P2A) that includes:
Lectures and course materials
Accommodation at organizing university dormitories
Meals (9 breakfasts, 9 lunches, 9 dinner)
Airport transfers
​Local transportation during program
All sessions, visits, and excursions
Certificate of attendance
REGISTRATION AND INFORMATION
International Office
BINUS UNIVERSITY
Anggrek Campus, R. 331 (3rd floor)
Jl. Kebon Jeruk Raya No. 27, Kebon Jeruk, Jakarta Barat 11530, Indonesia
CP: Ms. Arlin Pusparini
T. +62-21 534 5830 ext. 1323 | F. +62-21 530 0244
E. arlin.pusparini@binus.edu
Last updated :