Short intensive programs with credit earnings, customized with your choice of subject areas, covering essential topics about amazing Indonesia. Students can expect quality instruction delivered in warm, fun and exciting environment.
The classes are taught by experienced faculty members, combining fun activities to support the academic learning. Extracurricular activities such as field trips, cultural exchanges and language courses are included to complete the whole experience. This is an all-in program which you will gain credits for the study of your chosen topic, intercultural competence and a platform to make friends with Indonesians. A certificate and/or transcript will be awarded upon the completion of the course.
Learn Indonesian language for everyday use while experiencing thriving Jakarta!
Appreciate the art, history, culture and of course, FOOD of Indonesia!
Wide variety of hot electives preparing you for exciting opportunities in Indonesia!
COURSES / SUBJECTS OFFERED
Indonesian Language & Culture
Amazing Indonesia in Multiple Perspectives
Introduction to Indonesian Music and Culture
Indonesian Art Trip and Experience
Heritage and Cultural Tourism in Global Context
Indonesian Intercultural Communication
A Journey to Indonesian Islamic Finance
Doing e-Business in Indonesia
Indonesian Heritage and Game Experience
Indonesian Digital Tourism
Other customizable programs
Language of Instruction
English
Duration
2-3 weeks
Credits
2 credits (± 25 hours)
International Short Program: Embracing ASEAN Region and its Business Opportunities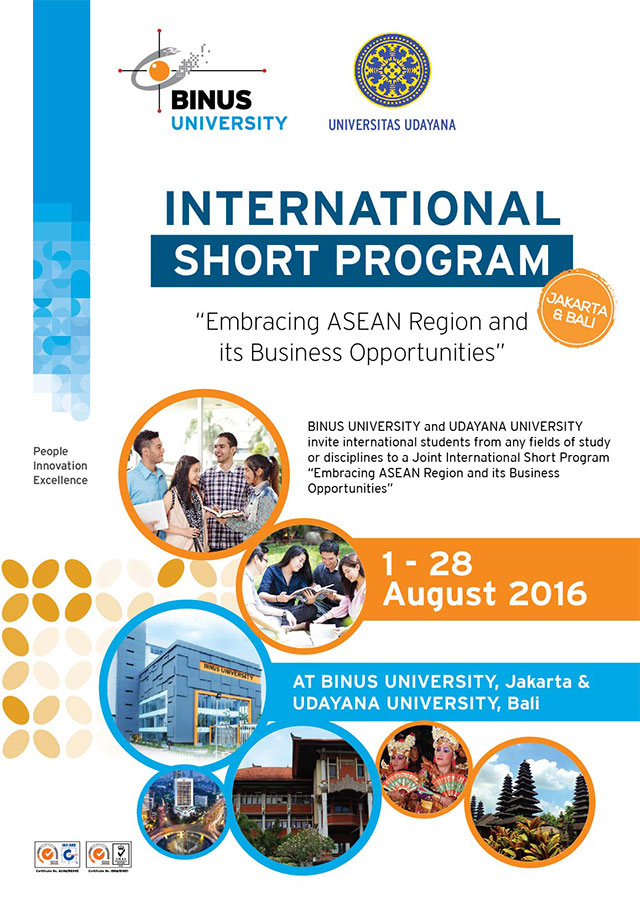 BINUS UNIVERSITY and UDAYANA UNIVERSITY invite international students from any fields of study or disciplines to a Joint International Short Program "Embracing ASEAN Region and its Business Opportunities" in Jakarta and Bali.
Name of Program:
Deakin University Australia: Game Application & Technology Study Tour
Total participants:
10 students from Deakin University (Australia)
4 iBuddies from BINUS UNIVERSITY (Indonesia)
Itinerary
Day
Activity
Day 1 – 3
Opening
Lecture: Overview of Indonesia's History and Cultures
Lecture: Art Digital Imaging Indonesia Game Assets: Characters and Items
Lecture: Game Design for Indonesia Market
Day 4
Indonesian Language Course and Cultural Activity
Project introduction & discussion
Day 5 – 6
Field trip to Bandung
Company visit to game developers and traditional games community
Day 7
Free day in Jakarta
Day 8 – 13
Project development
Company visit to game publisher and developer
Project completion and collection
Project presentation and assessment
Farewell and closing
"A sincere and heartfelt thank you to all the BINUS team that put together the Games Short Course. We would love to work with you again in 2015 to run this program again and invite hopefully even more students to experience Binus."
Neema Cucinotta – Deakin University
(International and Partnerships Manager of Faculty of Science, Engineering and Built Environment)
Last updated :